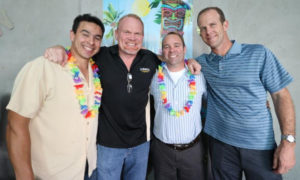 March is always an incredible month at Watkins Landmark. Not only is it one of the busiest months of the year for our company, but it is also a month of many celebrations and milestone events. Although I don't think any previous March in the past can really compare to March 2017.
We had our annual suite for the opening weekend at the BNP Paribas Open. This celebration was especially significant as we just finished our largest and most difficult project to date at the Indian Wells Tennis Garden. In just 11 months we completely gutted and renovated Stadium #1, which is the 2nd largest tennis stadium in the world. We also celebrated the 10th anniversary for two of our cornerstone employees: Dan Poulton and Oscar Iniguez. And I would be remiss if I didn't mention our annual St. Patrick's Day celebration organized by Jamie Melsheimer. Since we are an Irish-owned company, we tend to go all out for St. Patrick's Day. This year was our biggest celebration to date. Contained in this month's newsletter is an article on the BNP Paribas Open. As I mentioned above, it was an incredible celebration for Watkins Landmark this year. We also have an article on the completion of our Sacred Heart project which was our first project in Coronado. Our last project article is on the Paseo Marriott project, which is located in the El Paseo shopping district of Palm Desert. It is our first Marriott hotel and an Autograph series to boot! The article notes 365 days on the project with no accidents. Safety is our number one priority at Watkins Landmark. "At the end of the day, everybody goes home safe", is our safety mantra.
As is our custom, we have listed our in-house promotions and new hires in the Company Culture section of our newsletter. Please keep your comments and suggestions on our newsletter coming! We appreciate the comments and use the suggestions to improve our news bulletin.
Sincerely,


Jody James Watkins
CEO / President
WATKINS LANDMARK CONSTRUCTION
Carlsbad / Indian Wells
---
BNP Paribas Open
With the completion of our Stadium #1 Renovation project, came the BNP Paribas Open. WLC reserved a suite inside stadium 1 for the opening weekend of the tournament, where our team along with some of our clients, friends, and family were able to relax and watch some great tennis matches.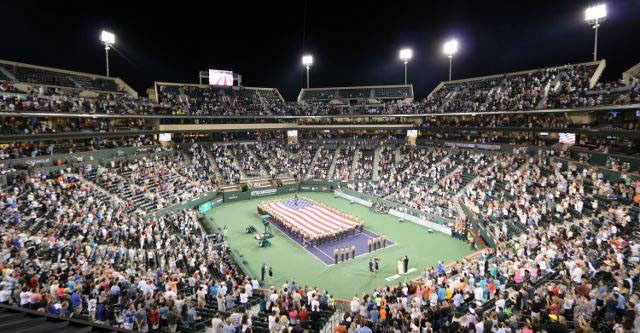 During the duration of the tournament, many players and fans were able to enjoy the new amenities and luxuries that the tennis garden now offers. Many visitors commented on the new features and some even argue that it is now the best tennis facility in the world. One of our favorite quotes from the feedback of the new facility was said by Ian Orr, Vice President of Levy Restaurants, "A monumental task, largely because they had to do it all in less than a year. It's pretty impressive what we've put together. You've got to compliment Larry Ellison, Indian Wells Tennis Garden, and Desert Champions. We worked some big miracles together, along with the construction companies and designers." It's true, this was a miracle project and we could not be prouder to have our footprint on this iconic landmark.
Since 2009, WLC has been the general contractor at the Indian Wells Tennis Garden and the BNP Paribas Open has expanded by over 120,000 more fans in attendance. "Countless other upgrades helped build attendance from 332,498 in 2009 to 456,672 in 2015, which is just behind the French Open and Wimbledon in regards to paying spectators." (Desert Sun) We are pretty excited that we have been able to watch our hard work contribute to the success of the Gardens.
---
Sacred Heart Completion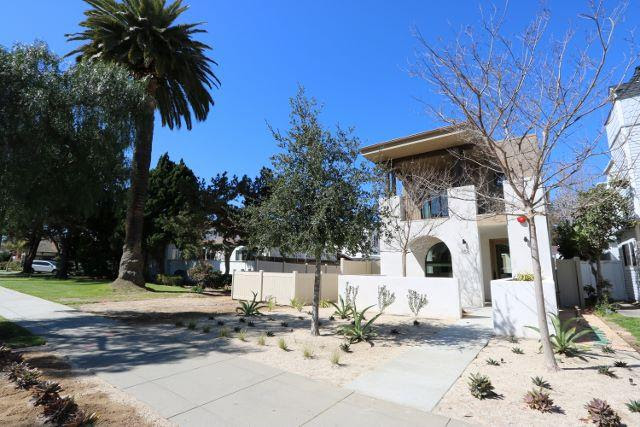 Sacred Heart Church Rectory is a small but very unique project located on beautiful Coronado Island in San Diego. This project is a great representation of a modern take on Irving Gill Architecture. This residence is a modest building that will be the living quarters for up to three priests. Father Mike, the current priest, had an active role in selecting finishes and hardware that have now become part of his home.

We faced a number of hurdles with the cost of steel rising significantly between when we estimated the project and when the project came under contract, however, we were still able to bring it in under budget. The narrow lots in Coronado required that 75 LF of shoring be put in place to construct the full basement, on top of which the new building sits. The proximity to the ocean and the humid environment on the island makes termites a huge problem. In order to expand the lifetime of the building, the church had the designers specify the use of metal studs for framing, cement board on all trim, and a stucco exterior. The first floor consists of a common great room, a full kitchen, and a guest area. A courtyard bridges the large basement to connect to the first-floor suite that consists of a living room, kitchenette, bedroom, and bathroom. Two identical suites are stacked on top of these specs to create additional living quarters.
Tori Penick, the project manager, and Bob Evert, the superintendent, worked hard to ensure that this project was finished the way that the church envisioned. Well done to all involved, thank you for all of your hard work and for completing another fantastic project for WLC. We look forward to the possibility of future projects with the Sacred Heart Church. It has been an honor to serve this community.
---
Hotel Paseo Safety Appreciation Lunch
On March 23rd our team at Hotel Paseo hosted a lunch for everyone on site to celebrate a full 365 days incident free!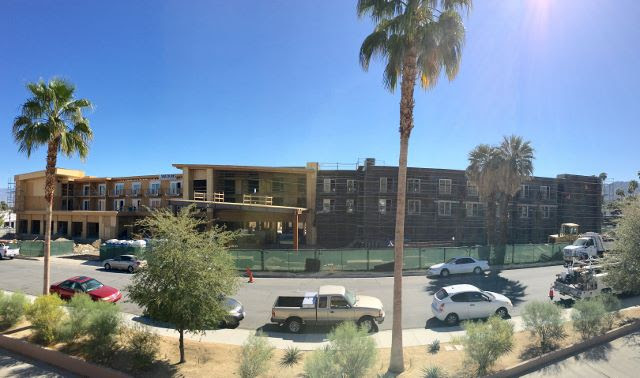 The Hotel covers nearly 100,000 square feet and stretches up 3 stories. There are over 100 people working on-site daily. This is a huge accomplishment for this project to have performed a full year without incident. Our project team consists of John Allegretto, Regional Executive, Noreen Tripp-Hudson, Senior Project Engineer, Jonathan Clarke, Senior Superintendent, and Jeff Wetherholt, Asst. Superintendent, who have all made safety the top priority.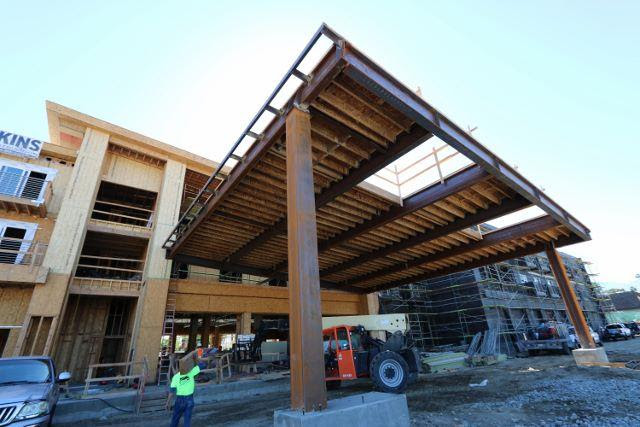 This hotel will be the newest addition to the Marriott Autograph Collection. The hotel will consist of 150 guest rooms, a farm-to-table restaurant serving American cuisine, and a world-class spa. The mid-century modern design will be a grand addition to this beautiful community and is projected to be completed by September 2017.
Thank you to all our wonderful, hard-working subcontractors who have made an effort to stay safe this past year. We are grateful to you!
---
Company Culture
Promotions
Christian Ryan, Regional Executive Orange County
John Allegretto, Regional Executive Inland Empire
Flynn Grace, Assistant Superintendent (SD)
New Hires
Our company has nearly doubled in employees within the past year due to our growing list of Landmark projects, and we would like to recognize those who have joined our team since the last newsletter.
Josh Zaragoza, Senior Project Engineer (San Diego)
Alissa Messerschmitt, Project Engineer (San Diego)
Ron Travillion, Project Manager (San Diego)
Tim Losacco, Superintendent (San Diego)
Michelle Badillo, Project Engineer (San Diego)
Brent Fabian, Project Manager (San Diego)
Pete Hamilton, Superintendent (San Diego)
John Didion, Superintendent (San Diego) *Welcome Back
**A special congratulations are also in order for two of our Watkins women that welcomed beautiful babies into the world:
Stacey Aguirre welcomed a baby boy, Jayce, on 2/21/17


Audrey Bell welcomed a baby boy, Logan, on none other than St. Patrick's Day, 3/17/17.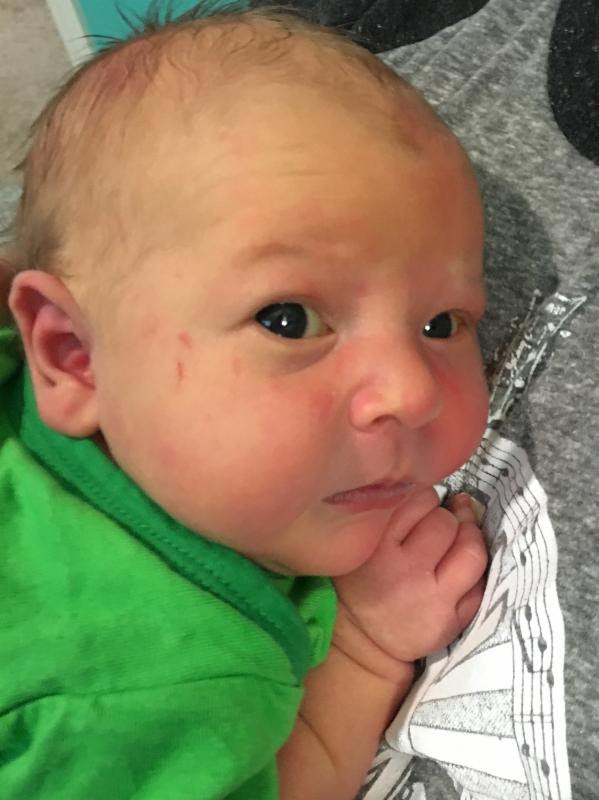 ---
St. Patrick's Day
St. Patrick's Day, or as we like to call it…WLCs favorite day of the year! Our Carlsbad team enjoyed a fun happy hour filled with lots of good Irish fun. Thank you Jamie for a great event!
Oscar & Dan's 10th Anniversary at WLC
On Friday, the Carlsbad office celebrated the 10 year anniversary of Oscar Iniguez and Dan Poulton. Aside from Jody & Jennifer Watkins, there are now 3 employees that have been with WLC for over a decade. We enjoyed a luau-themed party where we were joined by family & friends to celebrate two incredible employees! We were so happy to see the incredible turnout of people who came to support this accomplishment. Congratulations, and cheers to 10 more! Thank you, Leny for coordinating a wonderful celebration!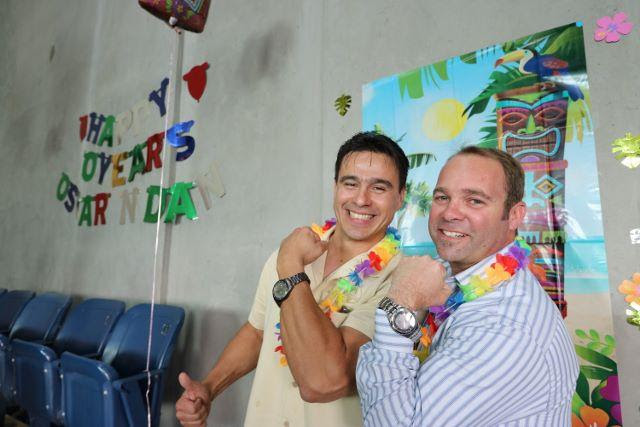 ---