Upgrades elevate BNP Paribas Open fan experience
Andrew L. John, The Desert Sun Published 10:13 a.m. PT March 5, 2017, | Updated 7:40 a.m. PT March 6, 2017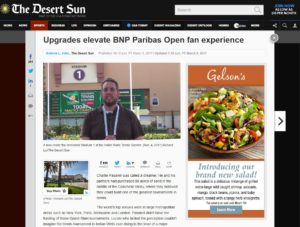 Charlie Pasarell was called a dreamer. He and his partners had purchased 88 acres of land in the middle of the Coachella Valley, where they believed they could build one of the greatest tournaments in tennis.
The world's top venues were in large metropolitan areas such as New York, Paris, Melbourne, and London. Pasarell didn't have the funding of those Grand Slam tournaments. Locals who lacked his perception couldn't imagine the tennis tournament in Indian Wells ever rising to the level of a major.
"When he laid down the plans for the Tennis Garden, that was so far fetched," former tennis player Rosie Casals said. "It was just sand. Everybody thought, 'Ah, I don't know if that's going to take off.'
"Well, it did."
The BNP Paribas Open has since been named the tournament of the year by the players in consecutive years, and the facilities at the Indian Wells Tennis Garden are now arguably the best in the sport.
Nearly 20 years since Pasarell envisioned what could be at Indian Wells, the reality of that vision is becoming more vivid, particularly with the latest year-long renovation that includes a refurbished Stadium 1. Now the second-largest tennis stadium in the country — with a seating capacity of 16,100 — the upgrades will be unveiled at this year's event.
By incorporating Wolfgang Puck's Michelin Star rated Spago into the stadium, it will have a fine dining option, like Chop House and Nobu in Stadium 2, and will mix world-class food with world-class tennis.
Tennis Garden officials partnered with Levy Restaurants, which has worked on several stadium projects in the past, such as Microsoft Theater and Staples Center in Los Angeles, and the O2 Arena in London among them. Ian Orr, the regional vice president of operations for Levy, said the Indian Wells project was a "monumental task," largely because they had to do it all in less than a year.
"It's pretty impressive what we've put together," Orr said. "You've got to compliment Larry Ellison, Indian Wells Tennis Garden and Desert Champions. We worked some big miracles together, along with the construction companies and designers."
In order to cater to a sophisticated tennis crowd, Orr and his team had the task of partnering certain chefs and food options that would work well at a Southern California tennis tournament. The concessions were designed individually – which alone took five months – and a massive team was put in place to pull it all off.