January Newsletter
It is very hard for me to believe we are going into our 14th year of being in business. The growth and changes in Watkins Landmark Construction have been staggering. There have been some great moments of pride of course. Some are easy to identify. Our work at Indian Wells Tennis Garden is the first one that comes to mind. Our work in the faith-based community projects like Solana Beach Presbyterian Church, St. Patrick's Catholic School, and the San Diego Jewish Academy established Watkins Landmark as a trusted and quality builder in the faith-based market. As of late, we take great pride in our work on the hotel and multi-family projects including, Aveline, Paseo Marriott, and Kona Kai. There are also some moments of pride that the majority of people would not guess. In 2009, when meeting each payroll was a Herculean task, we took great pride that the staff we had remained employed and the doors remained open. We took care of not only our employees but our subcontractors as well. That for me is one of the biggest accomplishments that we have had in our company history.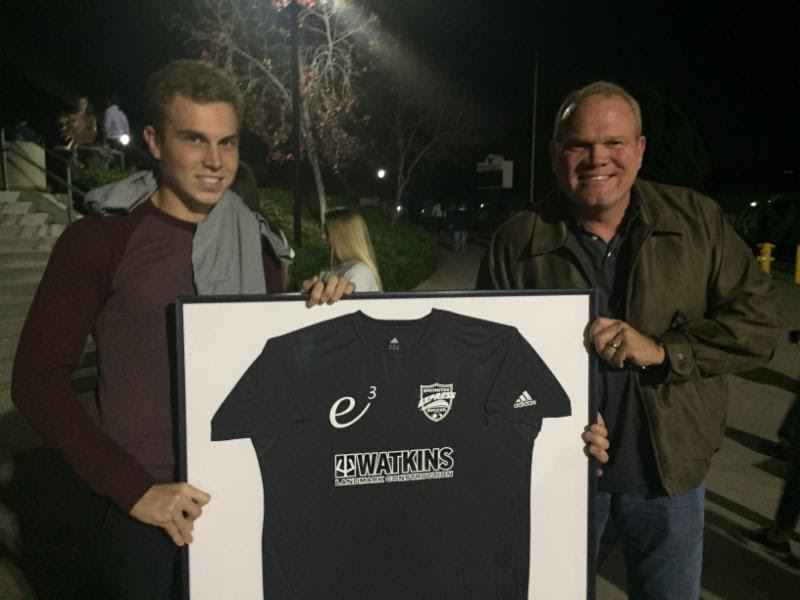 One of our featured projects highlighted in the newsletter is the Upper Voltaire multi-family project in Point Loma. This project will consist of twenty-eight townhome residences. Located right off of Nimitz Blvd, this project is conveniently located to the Ocean Beach Community as well as just up the road from Shelter Island. This project will also include three street-level retail spaces making this a much-needed mixed-use project in the Point Loma Community. This project has been in preconstruction for many years before
finally breaking ground last year. Seeing this finally rise in the Upper Voltaire neighborhood has been well worth the wait.
Our second project featured in this newsletter is our latest hotel project located in Lake Forest. The Springhill Suites Hotel project will consist of 102 rooms spread over 5 stories with another two stories of underground parking for a total of 101,000 s.f. This is our biggest hotel project to be managed out of our Orange County office to date. We are incredibly proud of our Orange County team and the growth they have experienced in less than a year of being open for business.
In our Company Culture section, we are happy to celebrate Noreen Tripp-Hudson's 5 year anniversary with our company. Noreen has been one of the building blocks of our Indian Wells office. As a Senior Project Engineer, Noreen has worked on most of our projects in the desert including the Indian Wells Tennis Garden Stadium 2 project and most currently the Paseo Marriott. Our celebration also coincided with Noreen's birthday. Happy Birthday, Noreen!
We are excited to welcome some recently hired team members to Watkins Landmark. Andrew Doscher is an accounting intern working out of our San Diego office. Travers Newell is an estimating intern working out of our Indian Wells office. And welcome back from maternity leave Audrey Bell in our Indian Wells office!
Please keep your comments and suggestions on our newsletter coming. We always appreciate the feedback!
Jody James Watkins
CEO/Founder
WATKINS LANDMARK CONSTRUCTION
San Diego / Inland Empire / Orange County
---
Upper Volta

Our Upper Voltaire project is located along Voltaire Street, a neighborhood that extends from Point Loma High School to the popular Ocean Beach seashore. The mixed-use space will have easy access to interstate 8 and I-5 freeways and is minutes from, Old Town historic district, three universities, Mission Valley and Midway/Sports Arena regional centers, several US Navy bases, San Diego International Airport, and downtown. The Voltaire neighborhood business district currently has a supermarket, over 100 shops, and restaurants, schools, parks, a new library, and more, all within a 5-minute walk. While Point Loma is close to all things downtown, it has the distinct feeling of a suburban beach community.
This new community will deliver twenty-eight quality town-home residences. All two or three-bedroom floor plans range in size from 1,214 to over 1,700 square feet (1,450 SF average) and six will offer a bonus family room/study. Seventeen townhomes are three-stories with mid-level entry and eleven are two-stories over storefront retail. All dwellings have one or two outside decks, 2+ parking spaces, and a secure storage room in the garage. Two elevators access the garage, ground-level outdoor common areas, and mid-level residential entries. Gated driveways exit the garage onto Voltaire Street and Whittier Street. The design includes six buildings, three containing street-level retail spaces along Voltaire Street. Commercial customers will use a separate, at-grade parking lot located behind stores.

Our team has estimated that the completion date will be sometime in the early fall of this year. Our wonderful staff on-site consists of Matt Dolan, Senior Project Manager, Oscar Iniguez, Senior Superintendent, Dean Christman, Senior Project Engineer, Jasmine Cornejo, Intern Project Engineer. Keep rolling team, the site is looking awesome!
Completing the final stages of the project is Norm Testerman, Chief Superintendent, Jeff Wetherholt, Superintendent, Obhi Dewan, Project Engineer, and James Casey, Project Engineer. Great job team, almost there!!
SpringHill Suites Lake Forest
We are beginning to work on the new SpringHill Suites Marriott Hotel in the Orange County community of Lake Forest. This project is designed by DesignCell Architecture and the renderings and project details that you see below are featured on their website.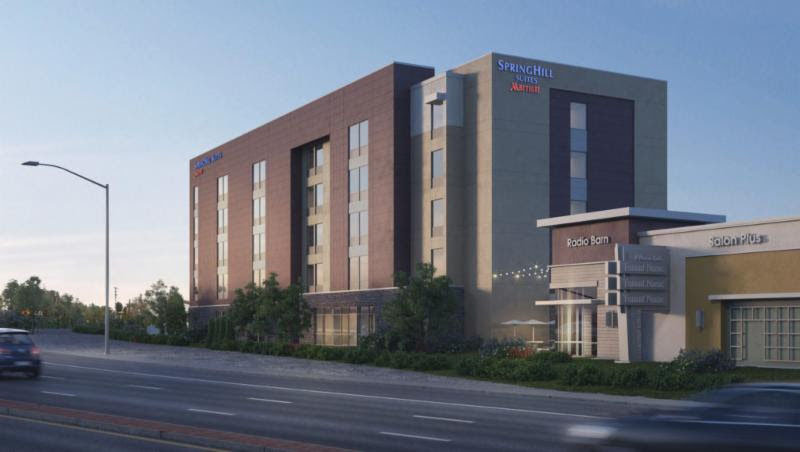 The new hotel will have 102 rooms and will be located within the prominent area of Gateway Center off of Lake Forest Drive and Rockfield Boulevard. The hotel is a five-story building of 66,000 SF over a two-story, 85 stalls, the underground parking garage of 35,000 SF, for a total of 101,000 SF. The hotel location offers guests great dining and entertainment within this newly redeveloped commercial center and is just two exits south of the Irvine Spectrum Center. The Irvine Spectrum Center is a premier outdoor shopping and entertainment venue that is home to the Improv, Edwards Cinema Theaters, Dave and Busters, and over 100 other restaurants and shops.
The hotel was custom fitted within an extremely tight site. Cultured stone, fiber cement cladding, and the exterior paint scheme was used to complement and enhance existing buildings of the center. SpringHill Suites is an all-suite hotel offering King and Double Queen rooms with sleepers. Rooms offer dedicated work-spaces, microwaves, mini-fridge, and spa-like baths. Hotel amenities include a business center, fitness center, pool, market, laundry, and outdoor fire-pits.
As most of you now know, our Orange County Regional Office is the newest addition to Watkins Landmark Construction and we are proud to have the opportunity to build this new hotel. Our team leading this project consists of Jon Kuretich, Project Manager, Joy Tsou, Senior Project Engineer, and Carlos Lopez, Superintendent. Our team is hitting the ground running and we are excited to follow along with the progress!
---
Company Culture
New Hires
Andrew Doscher, Accounting Intern (San Diego)
Travers Newell, Estimating Intern (Inland Empire)
Welcome Back, Audrey Bell, Preconstruction Manager (Inland Empire)
Noreen's 5 Year Anniversary/Birthday