Spring 2019 Newsletter
It is considered to some, that April is the month of growth and that Spring is a season of transition. This analogy is a significant one given some of the exciting and recent changes that have occurred at Watkins Landmark Construction.
First of all, at the beginning of April, WLC relocated its corporate headquarters to the beautiful Ocean Point Business Park off Avenida Encinas in Carlsbad, California adjacent to Interstate 5. This move is not only a physical one but more importantly, it represents the "New Beginning" initiative for the company. Our business culture will place a strong emphasis on continuing a high level of services to our valuable clients, attracting new customers and business markets, as well improving our day to day business practices. This exciting transition and the new business initiative has already made an immediate impact in the first quarter of 2019 and is trending positively as we look towards the remainder of this year.
The first few articles highlight the completion of our Upper Voltaire Mixed-Use project featuring 28 new town-homes in Point Loma. We also present the completion of the Operations Garage at the Crownair Aviation Facility. You will also read about Phase II of this project, the highly anticipated FBO Offices, and the Hangar project. Phase II is set to begin in July 2019.
In downtown San Diego, WLC is near completion of the Art Block shell and the tenant improvements project for the local General Services Administration offices. Finally, in Palm Desert, the El Paseo Marketplace project has started and includes the renovation and expansion of four retail structures anchored by Jensens Finest Foods.
In our Company Culture section, WLC is pleased to announce two significant promotions: Sean Rafter to Chief Financial Officer and Scott Zuppan to Project Executive. Congratulations guys, we look forward to your guiding leadership for many years to come. We are also very proud to list out all of our first quarter employee promotions and team additions.
Please keep your comments and suggestions on our newsletter coming. We always appreciate the feedback!
Dennis Dizon
COO/ VP of Operations
WATKINS LANDMARK CONSTRUCTION
San Diego / Inland Empire
---
Upper Voltaire Mixed-Use Job completion
We are proud to announce the completion of the Upper Voltaire Mixed-Use project, located on Voltaire Street near Point Loma and Ocean Beach.
This Landmark project includes twenty-eight (28) two and three-story luxury townhomes, featuring designer finishes, outdoor balconies for each residence, and five (5) ground-floor retail spaces along Voltaire Street. The project is built with six (6) wood-framed structures over a below-grade parking garage built in the side of a slope with a structural concrete podium deck, over 75,000 s.f. in occupied square footage.
Each residence features a beautiful interior designer palette, incorporating contemporary, yet classic trends. High ceilings in living spaces, laminate wood, ceramic and porcelain tile flooring, and quality carpet. Beautifully crafted cabinets with complementary hardware, quartz countertops with designer tile backsplashes, and fixtures. Kitchen islands with pendant lighting, Whirlpool stainless steel gas range with fan convection, over-the-range microwaves, refrigerators, and dishwashers. Bathrooms feature dual stone vanity sinks and designer tiles.
WLC started the project in early 2017 and achieved TCO by Dec 2018. Despite schedule challenges caused by abnormal weather delays, unforeseen site conditions, and design-related issues, WLC was able to work together with the owner Voltaire Partners and Pappas Architects to complete this highly anticipated project. Congratulations to the project team: Matt Dolan, Dean Christman, Oscar Iniguez, Jasmine Cornejo, Jerry Carter, Sean Rafter, and Staci Price for a job well done!
---
Art Block / GSA Tenant Improvements
The Art Block Basement Remodel and GSA Tenant Improvement project is located in the I.D.E.A District in Downtown San Diego. The project consists of a complete renovation of the basement level of a 5 story building, by demolishing existing walls and facilities and building new restrooms, interior walls, chair lifts, stairs, and a window/storefront system. In addition, WLC is constructing the interior build-out and improvements for the GSA.
The WLC project team includes Project Manager Dean Christman, Project Executive Scott Zuppan, Superintendent Flynn Grace, and Molly Watson as the Project Coordinator. Our WLC team has been working together with the Paragon Real Estate Investments, Lahaina Architects, and Jeff Parshalle Architects to ensure the success of this project. Art Block is scheduled to be completed in June of 2019.
---
Crownair Aviation FBO Air Phase 1
The Crownair Aviation's FBO Expansion project is located at the Montgomery-Gibbs Executive Airport in Kearny Mesa. This project consists of two phases that vastly improves and expands the current FBO facilities.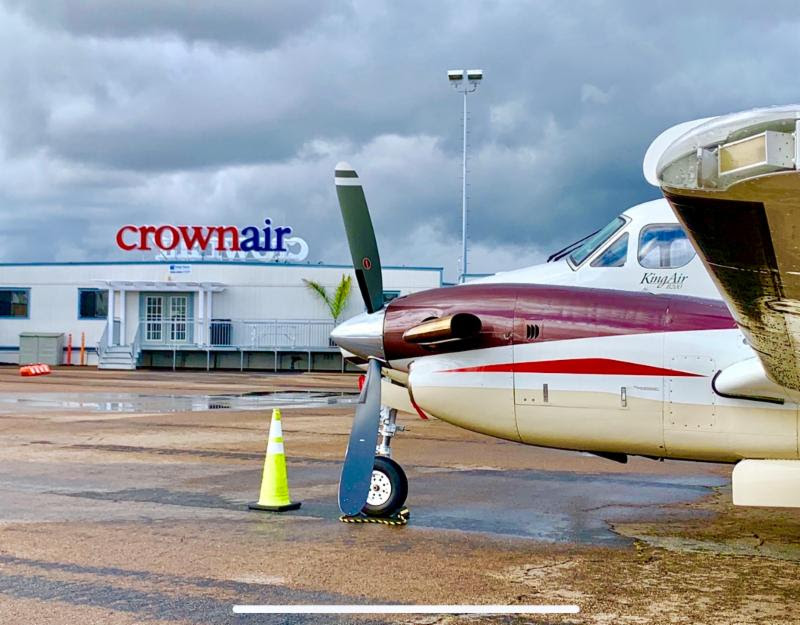 Phase 1 is a new 60'x60′ pre-engineered metal building on slab on grade to be used as the Operations Garage for the City of San Diego. Construction started in January 2019 and is scheduled to complete in June 2019. Phase 2 is scheduled to start in July 2019 and consists of 30,000 s.f. of new FBO offices, hangars, and site improvements.
WLC project team is lead by Project Executive Scott Zuppan and is proud to be working with Horine Group as the construction manager, City of San Diego / Crownair Aviation as the Owner, and the design team Howard Anderson Architecture. Here is a shot of Scott Zuppan (left) with our VP of Construction, Dan Poulton (right), proudly standing in front of the finished Phase I garage. Well done Mr. Zuppan and team!
---
El Paseo Marketplace Mall (Jensen's)
The El Paseo Marketplace Renovation project is located in Palm Desert off Highway 111. It began construction in May 2019. We are very excited to start a new relationship with Commerce Realty and Nadel Studio One Architects.
This exciting and fast-paced project consists of the renovation of four (4) existing retail buildings anchored by Jensen's Finest Foods. Improvements include new tower structures, interior demising walls, new storefront window systems, improvements to the exterior facade and canopy, site improvements and completely upgrading the MEP systems. One of the biggest challenges will be to complete the work during regular business hours and avoid any disruption to the adjacent business operations.
Our WLC project team includes Project Manager, Andy Alvillar, Senior Project Engineer, Zach Mullin, Superintendent, Chuck Edwards, Project Coordinator, Melanie Trinchero, and Estimator, Mark Faessel. This group of experienced builders is off to a great start and we look forward to the successful completion by Fall 2019!
---
Company Culture
Staff Incorporations and Promotions
Since January 2019, we have had some substantial staff changes that we would like to share with you.
We welcomed John Gonzalez, our new Director of Business Development.
John worked for Level 3 Construction for 9 years, where he gained some great knowledge that will definitely be a huge asset to the Watkins team.
We have also welcomed the following valuable employees:
Cesar Escalante Maldonado – Intern at IWTG
Chris Mireles – Assistant Estimator – San Diego and Indian Wells
Chuck Edwards – Superintendent – Indian Wells
Dani Tiffany – Project Manager – San Diego
Dominic Alvillar – Laborer – El Paseo Marketplace
Emilio Cardona – Laborer – Turtle Creek
Katie Wilkie – Engineering Intern – San Diego
Michael Yates – Superintendent – Indian Wells
Rick Bailitz – Senior Project Manager – Indian Wells
Scott Searl – Accounting Intern – San Diego
Tim McBride – Superintendent – Indian Wells
Promotions
Please join us in congratulating the following team members for their well-deserved promotions this year.
Brianne Searl – Operations Coordinator
Carlos Lopez – Senior Superintendent
Daniel Gamez – Laborer Foreman
Flynn Grace – Superintendent
Jerry Carter – Assistant Superintendent
Jon Kuretich – Senior Project Manager
Scott Zuppan – Project Executive
Sean Rafter – Chief Financial Officer
Staci Price – Assistant Controller
Yvette Lemos – Senior Project Engineer
Zach Mullin – Senior Project Engineer
---
Headquarters Office Relocation
Early in April, our Headquarters found a new home. As you may have learned from our recent email blast, our new address is 5441 Avenida Encinas, Suite A, Carlsbad, CA 92008. Our telephone and fax numbers remain the same. If you are in the area, please feel free to stop by and check out our new facilities.