April Newsletter
Someone once said that Spring is the time of transition. This is a very appropriate metaphor to describe the current status at Watkins Landmark Construction. Many of our significant projects such as Aveline and Kona Kai are coming to an end and a few of our landmark projects such as the Dream Hotel, USD Tennis Center, and the Self Realization Fellowship in Escondido are in pre-construction or just underway. Timing is everything when it comes to construction staffing. Timing our employee's departure from one project and starting another is one of the biggest challenges we face at Watkins Landmark. It is a transitional period that is full of opportunities for our growing staff.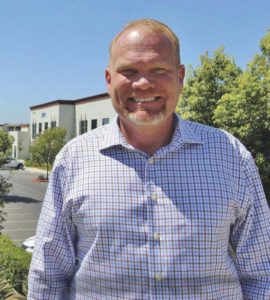 Our Dream Hotel project is our most ambitious hotel project to date. This 5 story hotel in the heart of Palm Springs, adjacent to the convention center will set a new standard for hotels in the Inland Empire. This 169 room hotel will also feature 30 condominiums for full-time residents. The project is being developed by Selene International and is scheduled for completion in the Spring of 2020.
The second article features our most recent project award, the Self Realization Fellowship Sanctuary in Escondido. The scope of this project includes a new sanctuary, a Sunday school building, a multi-purpose building as well as various site improvements. We are very excited to get begin work with this international organization.
In our Company Culture section, we feature a site tour with our hard-working Upper Voltaire team! Our Carlsbad office made their way down to Point Loma to hear and see all of the exciting building going on at this unique project. Of course, we all shared a great team lunch afterward!
Please keep your comments and suggestions on our newsletter coming. We always appreciate the feedback!
Jody James Watkins
CEO/Founder
WATKINS LANDMARK CONSTRUCTION
San Diego / Inland Empire / Orange County
---
Dream Hotel
We are well on our way over to The Dream Hotel in Palm Springs. It has been full steam ahead since breaking ground in early March. The groundbreaking ceremony was attended by many community leaders, Selene International, and of course our team. "The Dream" is planned as a luxury convention hotel just north of the Palm Springs Convention Center.
The hotel is planned to have 169 rooms, 30 private residences, multiple restaurants and bars, and more than 10,000 square feet of meeting and conference room space. The project also includes three swimming pools and an underground parking garage capable of accommodating 230 cars. Located in the heart of downtown Palm Springs, the hotel's opening will aid in the economic growth of the city.
"The opening of Dream Palm Springs is part of a larger economic development plan for the city of Palm Springs. With more visitors in recent history, the city is experiencing unprecedented economic growth. Dream Palm Springs is expected to generate tax revenue and create new jobs, while also offering the growing residential and business communities a new reason to work and play in the neighborhood surrounding downtown Palm Springs." (Hotel Online) This project is scheduled to be complete by May 2020.
Self Realization Fellowship Project Award
WLC has been awarded yet another exciting project, the Self-Realization Fellowship in Escondido, California! We are very grateful to be working again with our friends over at Domusstudio, this will mark our 12th project together.
Escondido Center is a branch of Self-Realization Fellowship, a worldwide religious organization with international headquarters in Los Angeles. SRF was founded in 1920 by Paramahansa Yogananda to encourage meditation and disseminate Kriya Yoga, a definite scientific technique for attaining a direct personal experience of God. This Fellowship hosts meditation services and other spiritually oriented events. Their programs are attended by residents of numerous San Diego County and Riverside County communities and this new chapel will be a wonderful addition to the members' experience.
This property was originally built in 2002. The Self-Realization Fellowship has thoughtfully created a new site plan for their center and WLC is proud to be chosen as the contractor, having a role in expanding and improving the quality of this site. We are scheduled for a 3-phase completion project and plan to begin construction in the first quarter of 2019 with estimated completed construction by June 2020. Phase 1 is dedicated to making site improvements and construction of a new chapel. Phase 2 will create a new classroom building for Sunday school. Lastly, phase 3 will focus on constructing a multipurpose building, which includes a kitchen and a gardening area that will enhance the beauty of the center. Below you can see the interior layout drawn out by Domusstudio.
WLC is excited to get started on its next 'landmark" for this worldwide religious organization!
---
Company Culture
Upper Voltaire Job Walk
Oscar Iniguez recently hosted our team on-site at our Upper Voltaire Mixed-Use project in Point Loma. We were given an in-depth, behind the scenes tour of the project and then were treated to lunch!
This project has entailed a serious structural over-excavation to prepare for an underground parking structure, with 5 buildings built over post-tension slab and 28 condos spread over these buildings. The buildings have 1st-floor commercial space with two-story condos built over them.
The project is being fast-tracked to finish by this fall 2018. Framing is nearing completion and we are very much involved in rough mechanical, electrical, and plumbing activities throughout buildings one, five, and four. We are pushing to start wrapping paper/lath and stucco on building one by mid-May; buildings one, five, and four are roofed and we are currently working on building 3; grading for site concrete is also scheduled for the middle of May.
We are very proud of this team, keep up the hard work guys and girls!