May Newsletter
We refer to our core values on a daily basis here at WLC. Not only when presented with the opportunity to build a project for a potential client, but also during our company meetings. There are four values we expect every team member at Watkins Landmark to know. Those values are Pride in Work, Personable, Trustworthy, and Persistence. Out of the four, Persistence is the most important. It comes from a quote by Calvin Coolidge I was made to memorize in my college days at Arizona State University Simply put, "Persistence and determination alone are omnipotent. The slogan 'Press On' has solved and will continue to solve the problems of the human race." I refer to that quote often and our team at Watkins Landmark is probably tired of hearing it. However, it is our most important value and one we bring to every project.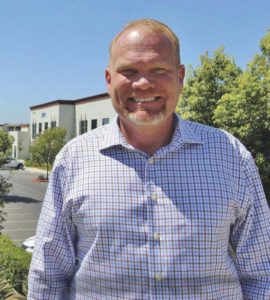 Our Quarter project in the heart of Moreno Valley has hit full stride. The project consists of a Holiday Inn Express, a Marriott Residence Inn, and two retail structures. It is located just southeast of the congested I215 and Route 60 intersection. The two new hotel projects represent some of the tallest buildings in Moreno Valley.
The second article features the Urban Edge project which is located in the Hillcrest neighborhood of San Diego. This is one of two projects we are currently building with the Horine Group. The Horine Group is one of our earliest clients and Steve Horine is someone I have known personally for over 16 years. We look forward to building several more projects with his firm in the future.
In our Company Culture section, we feature our annual company meeting. Thanks again to Dean Schumacher for beginning the meeting with a great icebreaker game involving the red SOLO cups. While it is getting more and more difficult to get all of our employees together for an annual company meeting, we feel it is a great time to get direct feedback from our employees on the challenges they face in the field. Thanks also have to go to Brianne Searl and Leny Iniguez-Poulton for organizing the company meeting. The meeting would not have happened without the two of you!
Please keep your comments and suggestions on our newsletter coming. We always appreciate the feedback!
Jody James Watkins
CEO/Founder
WATKINS LANDMARK CONSTRUCTION
San Diego / Inland Empire / Orange County
---
The Quarter
Moreno Valley's Quarter project will become a large contributor to the city's success and economic growth. The two new hotels, Holiday Inn Express and Marriott Residence Inn broke ground in September 2017 and have made tremendous progress since.
The Quarter sits on about 8.5 acres of land with fantastic surrounding locations, such as five existing apartment communities totaling 1,532 resident units, and is only minutes away from Moreno Valley's popular mall regional center. The Marriott will have 112 guest rooms and suites with 87,617 s.f. which is the larger of the two hotels. The Holiday Inn Express will sit on 58,380 s.f. and contain 104 units for guest enjoyment. The rest of the lot is made up of parcels 1, 2 & 3, which will include retail spaces such as Z Pizza Tap Room, the Coffee Bean, and a gas station on the lot. Also, we are making traffic improvements and filling in 200+ parking spaces for guests. This will contribute to the grand cost of the Quarter of $28.3 million.
With 4 contracts working simultaneously on this project, precision and persistence are keys to success. The WLC team is working effectively on their part to accomplish a greater goal of building a successful 'Landmark', which shows the strength of manpower and ability to communicate effectively, creating productive results.
Currently onsite we have Seth Sherrod as the Senior Superintendent, Sean Broomfield, and Nick Famania as the Superintendents, Gary Covel as the Assistant Superintendent, Jorge Rivero as the Project Manager, James Casey and Obhi Dewan as the Senior Project Engineers, and Alissa Messerschmitt as the Project Engineer. WLC is proud to make this contribution to Moreno Valley and continue our growing relationships with both the Marriott and Holiday Inn.
The Marriott Residence Inn is projected to be completed in February 2019, and the Holiday Inn Express is anticipated for October 2018. Great job team!
Urban Edge
Our Urban Edge project is located in Hillcrest, California right by UCSD medical hospital. This is yet another project we are working on alongside our friends at the Horine Group. The Horine Group was one of WLC's first clients, entrusting our team – amongst other jobs – with the beautiful Solana Beach Presbyterian Church. Along with the Horine Group, L2A and POD Architectural Firm are both heavily involved in the success of this project.
The total lot size estimates to be about 5,400 s.f. with the building footprint at 4,500 s.f. which will be tightly fitted. In addition, there will be 4 tri-level units with underground parking & roof access, as well as 1 four-story unit at grade level. In addition, a masonry podium will be included with a wood structure above.
Hillcrest is located north of downtown San Diego and is famous for its friendly streets and international cultural ties within the community. The diverse city has a vibrant nightlife and exquisite restaurants to dine in, as well as fashionable boutiques and an Uptown District shopping plaza for resident pleasure. Hillcrest is an excellent destination to call home, especially when looking for a welcoming environment to be surrounded by.
Our hardworking team on-site for this project will be Andrew Batson as Senior Project Manager, Tracy Johnson as Senior Project Engineer, and Chuck McLaughlin as Superintendent. This project is scheduled for completion by the end of 2018!
---
Company Culture
Annual Company Meeting
WLC team members gathered together for our annual company meeting this past month, which was a huge success. This year, our meeting was hosted at the WLC Carlsbad office, and team members enjoyed fun ice breaker games as well as a chance to mingle with new faces in the company. As always, the meeting discussed WLC's current state and future direction to accomplish our external and internal goals.
The meeting started off with an entertaining ice breaker game and followed by a SWOT analysis. Each team member had an opportunity to contribute and share where they believe the company is headed, and what opportunities are available for employee and company growth.
After lunch, the final portion of the meeting consisted of our Executive team presentations. This part included strategies for maintaining company culture and awarding individuals for outstanding achievement, which are key to WLC's core values. Also, we highlighted outstanding projects that were developed in 2017, such as Hotel Paseo and Kona Kai, and focused on exciting future projects for the months to come. WLC is excited to see where this year takes us!