After a March of celebrating several project milestones, company achievements, and annual events, April has been focused on building the infrastructure in order to catch up with our rapidly growing Company. Our Indian Wells office is moving next door to a new space that will expand our square footage by 3,000. Our new Orange County office is currently under construction just north of the Big A, home of the Los Angeles Angels of Anaheim. We even have distant murmurs about the potential of opening our first Northern California office.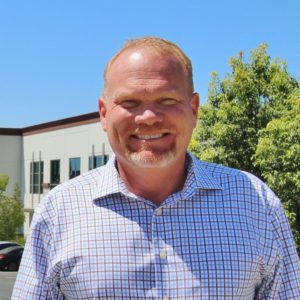 This month's newsletter will dive into the details of our Aveline Luxury Village Homes project in La Jolla. This is our first of hopefully many projects with Encore Capital Management. Aveline Luxury Village Homes is located adjacent to one of our previous projects, the La Jolla Presbyterian Church sanctuary, and preschool renovation. We have also included a feature story of our newly awarded pre-construction scope on the Miles Lodge project in Indian Wells. This project will be located just down the road from the Indian Wells Tennis Garden. The City of Indian Wells has targeted the Miles Lodge project as one of their most significant developments for 2018.
Our culture portion of the newsletter reports on the success of our blood drive for Barbara Thomsen. Barbara is currently in a ferocious battle with cancer. I could not be more proud of my team for rallying around Barb and standing in line to give blood on her behalf. Barb is a fighter and we expect her back at work soon.
As is our custom, we have listed our in-house promotions and new hires in the Company Culture section of our newsletter. Please keep your comments and suggestions on our newsletter coming! We appreciate the comments and use the suggestions to improve our news bulletin.
Sincerely,

Jody James Watkins
CEO / President
WATKINS LANDMARK CONSTRUCTION
Carlsbad / Indian Wells
---
Aveline Luxury Village Homes
Aveline is located just off Silver St. in the beautiful community of La Jolla just a few blocks from the famous shores and just steps from Cuvier Park, one of the most desired beach fronts in the country. These luxury townhomes will have convenience, dining, and retail within walking distance. The community is also striving to receive a LEED platinum certification. Every step of the construction process counts towards this certification, from the underground pre-treatment of the storm run-off drains to fabricating and recycling the lumber, and the addition of solar panels. We have taken great care in assuring that we meet those requirements.


These 18 luxury town-homes are  2, 3, or 4 bedrooms, and have been carefully designed. This community is being constructed with the finest materials and modern amenities including private elevators, top of the line Miele appliances, 2 car garages, rooftop decks, and home automation. The new residents will have the choice between 3 luxury top of the line interior design options; Classic Coastal, Euro-Traditional, or Urban Contemporary.
These properties range in size starting with the 2 bedroom/2.5 bathroom model at 1,917 sq. ft., up to a  4 bedroom /4.0 bathroom model at 2,430 sq. ft. The community will have a security gate and private streets leading around the property into the underground parking garages located below each property. The HOA-maintained landscaping will be lush and full, an added benefit for residents to enjoy in the spacious outdoor dining and patio areas that surround the property.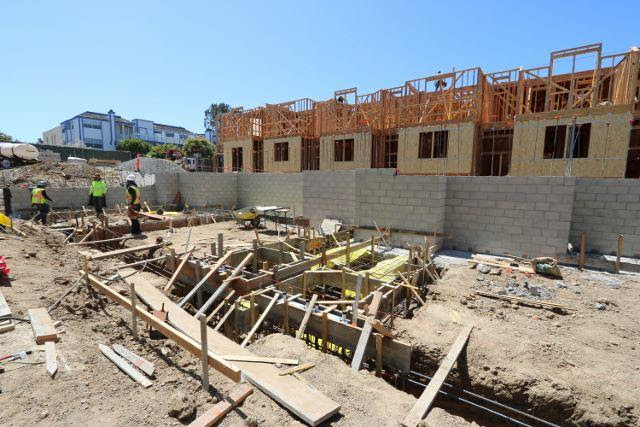 Taking over a previous GC's work is always a big challenge, and Aveline was not an exception to this. This has been a challenge since some of the units have already been purchased and these future residents are expecting to move into their new homes! The team on site, consisting of Matt Dolan (Senior Project Manager), Belen Soltero (Project Engineer), and Bill Bagby (Senior Superintendent), have been working tirelessly to ensure we remain on schedule. Keep it up team and thank you for all your hard work and dedication to this landmark project.
---
Indian Wells Hospitality Project Award
Located on the corner of Miles Ave. and Highway 111, this $130 million dollar hotel facility will be within walking distance of the world-famous Indian Wells Tennis Garden.


This project is in the pre-construction phase, with principal construction set to begin in the first quarter of 2018. This facility will consist of 82 condos, 127 hotel rooms, and 41 villas. Traffic signals will be added to Highway 111 to accommodate the increased traffic. The hotel will feature a variety of amenities, including an infinity pool, spa, fitness center, retail & restaurant space, and over 500 underground and ground-level parking spaces for guests and visitors. Rooftop construction will include pools and gardens, maximizing the enjoyment of the gorgeous desert/valley view.


The Indian Wells Chamber of Commerce hosted a presentation on Tuesday, May 2nd for the citizens of Indian Wells, to announce the project and project partners to the residents of Indian Wells. This project is planned to start the first quarter of 2018 with a projected opening date in the 3rd quarter of 2020. The developer of this project, TMC Group, and the architect WATG have worked very hard to design this much-anticipated project. We are honored to have been given this opportunity and are excited to start working on this incredible facility!
---
Company Culture
Promotions
Molly Watson, Estimating Coordinator (San Diego)
Melody Cser, Estimating Coordinator (Inland Empire)
Gina Logan, Marketing Assistant (Inland Empire)
Dylan Van Patten, Assistant Superintendent (San Diego)
Dean Holmstrom, Senior Superintendent (San Diego)
New Hires
Our company has nearly doubled in employees within the past year due to our growing list of Landmark projects, and we would like to recognize those who have joined our team since the last newsletter.
James Casey, Project Estimator (Indian Wells)
Gary Lacey, Project Estimator (Indian Wells)
Dean Christman, Project Engineer (San Diego)
Regional Blood Drives in honor of Barbara Thomsen
On March 28th our Carlsbad office hosted a blood drive with the San Diego Blood Bank to honor Barbara Thomsen. Barbara is a Senior Project Engineer who has been with WLC since early 2015. In February 2016 Barbara was told that she had a very small, slow-growing tumor in her lower colon. Since having that first tumor removed at the end of February 2016 Barbara has endured 3 rounds of chemotherapy, 4 surgeries, and 3 blood transfusions. She has shown an incredible amount of strength and has been our inspiration to host blood drives.

Our next blood drive will take place on May 11th at our Indian Wells Office.
Donating blood can help save up to 3 lives, please help us pay it forward!
Blood Drive
Watkins Landmark Construction
Thursday, May 11, 2017, 8:00 am -1:15 pm
45-250 Club Drive, Indian Wells, CA 92253
LifeStream Bloodmobile (Parking Lot)