August Newsletter
Labor Day Weekend is a great time to reflect on the summer and get refocused to finish out the year strong. Our team has been working hard to bring in some new and exciting projects while also staying on track to complete some of our current landmarks.

Our first article highlights our Upper Voltaire Project.
This is a mixed-use project in the highly desirable neighborhood of Point Loma, giving it easy access to all of San Diego's best attractions.
The development will have five buildings that include 28 townhomes with retail space on the ground level. This project is looking towards the finish line and is on track for completion in October.
The second article celebrates the award of the Hampton Inn & Suites project in Imperial Beach.  The hotel will consist of 100 Guest Rooms, a dining area, a business center, and an outdoor pool. This will be our first project with Sudberry Properties, which has teamed up with Tharldson Hospitality to manage the construction and hotel operations. We are excited to break ground next month!
In our Company Culture section, we recap our Annual Company Fishing Trip, our Day at the Races, and we give a quick review of Sean Rafter's experience at the Procore Customer Forum.
Please keep your comments and suggestions on our newsletter coming.  We always appreciate the feedback!
Sincerely,


Dean Schumacher
VP of Business Development
WATKINS LANDMARK CONSTRUCTION
San Diego / Inland Empire / Orange County
---
Upper Voltaire
We are turning the corner into the final stretch of our Upper Voltaire Project, located along Voltaire Street, a neighborhood that extends from Point Loma High School to the popular Ocean Beach seashore.


The mixed-use space will have easy access to interstate 8 and I-5 freeways and is minutes from Old Town historic district, three universities, Mission Valley and Midway/Sports Arena regional centers, several US Navy bases, San Diego International Airport, and Downtown. The Voltaire neighborhood business district currently has a supermarket, over 100 shops, and restaurants, schools, parks, a new library, and more, all within a 5-minute walk. While Point Loma is close to all things downtown, it has the distinct feeling of a suburban beach community.
This new community will deliver twenty-eight quality town-home residences. All two or three-bedroom floor plans range in size from 1,214 to over 1,700 square feet (1,450 SF average) and six will offer a bonus family room/study. Seventeen townhomes are three-stories with mid-level entry and eleven are two-stories over storefront retail. All dwellings have one or two outside decks, 2+ parking spaces, and a secure storage room in the garage.  Two elevators access the garage, ground-level outdoor common areas, and mid-level residential entries. Gated driveways exit the garage onto Voltaire Street and Whittier Street. The design includes five buildings, three containing street-level retail spaces along Voltaire Street. Commercial customers will use a separate, at-grade parking lot located behind the stores.
Our team has estimated that the completion date will be sometime in October of this year. Our wonderful staff on-site consists of Matt Dolan, Senior Project Manager, Oscar Iniguez, Senior Superintendent, Dean Christman, Senior Project Engineer, Jasmine Cornejo, Project Engineer, and Jerry Carter, Carpenter. Keep it up lady and gents, the site is looking awesome!
---
Hampton Inn & Suites Project Award
WLC is excited to announce that we have been awarded the Hampton Inn & Suites project in Imperial Beach, California! This luxury hotel will stand four-stories tall and contain 100 Guest Rooms, which will sit on 1.5 acres. In addition, the hotel will have an extensive outdoor pool and plaza with a central gathering place, a large dining center, and a furnished business center.

This will be our first project with Sudberry Properties, so we are eager to build new relations with this new endeavor. Also, the construction and hotel management will be run by Tharldson Hospitality. The project is valued at nearly $15M and is scheduled to start in September. A big congratulations to the team that helped land this project: Steve Gutwein, Matt Dolan, Oscar Iniguez and Iraj Aalam. Great work team!
---
Company Culture
New Hires
Zach Mullin- Project Engineer (Indian Wells)
WLC Day at the Races
Every year the WLC team heads to the Del Mar Race Track to enjoy an afternoon of watching the horses race! We had a great time this year and even had some winners among us. Needless to say, we can't wait to attend again next year! Take a look at some of the fun below!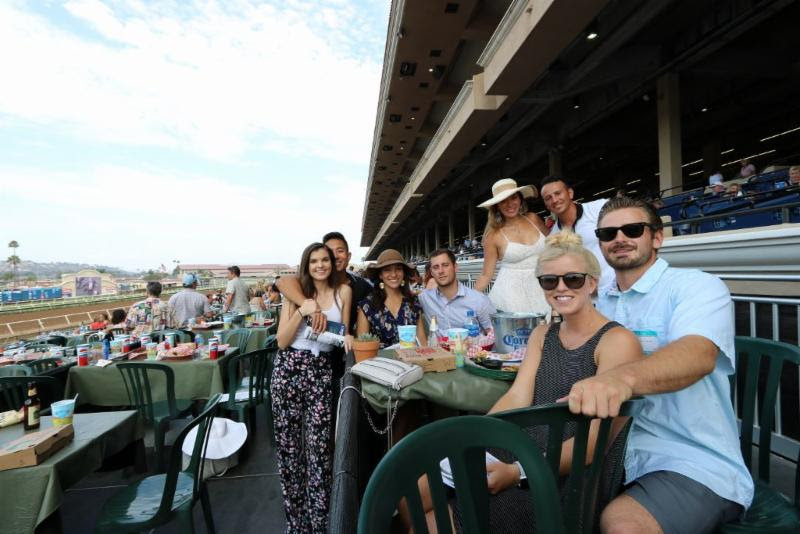 Annual Fishing Trip
Some of our Watkins Landmark employees were treated to an overnight fishing excursion in August with H&M Landing. The guys played some competitive games of poker, socializing, and of course a lot of deep-sea fishing!
Our group hit the max fish count allowed for the number of fishermen aboard. The crew spent the next day preparing yummy fresh fish meals for their families and friends, some of our guys even brought some fish into the office for us to try!
Procore Customer Forum
Recently, our very own WLC Controller, Sean Rafter, was asked to participate in a two-day Procore "Voice of the Customer" Forum at Procore's offices in Carpinteria, CA. The event brought together Procore Developers, Customer Service Representatives, and Programmers to listen to Procore Customers give first-hand experiences with the product.
WLC was one of only 5 Procore Customers represented at the Forum. The feedback was very positive, both from Sean and from the Procore employees. The second day of the event was dubbed a "Hack-a-thon", where the Procore Developers went to work implementing Customer suggested changes to the software. Sean was able to discuss WLC's needs directly with the programmers and see their solutions right on the spot. The goal for the day was 50 "hacks" and by the end of the 12-hour session, Procore had implemented over 120. Sean was able to answer questions, address his concerns on the panel and see a glimpse of what the future holds for Procore.
We are so proud to have Sean represent WLC at this event!