August Newsletter
Forecasting the Future of the Construction Industry During the Days of COVID-19
Greetings!
I have reached out to many of you in the past about the effects of the Coronavirus on the construction industry. The initial impact of the virus on the economy significantly slowed down and/or halted financing of commercial construction projects that were scheduled to break ground in the Spring of 2020. The result of this has caused an excess availability of construction manpower throughout Southern California. Combine this with the already record low gas prices, and the result has been the lowest construction costs we have seen in quite a while. However, there are other more long-term ramifications that COVID-19 will have on the construction industry. Not unlike 9/11, some of the day to day changes we have had to make in our lives will be with us long after the Coronavirus has run its course. One of the changes that have been made in our everyday lives is working from home. It is my belief that many companies have seen their employees working from home as a benefit and not a hindrance, both financially and in productivity. Going forward, long term planning of these companies will probably result in a reduction of their required office space. Coming out of the Coronavirus, we will see more people working out of their houses than ever before. I believe this will not be just a small percentage, but by a factor of 2, 3, or 4. 4.
What does this mean for the construction industry? And to be more specific, what does this mean to Watkins Landmark? As indicated above, I believe the need for office space will significantly drop; in both the new office building and office tenant improvement construction markets. However, it is also my belief that people working out of their homes all day will cause them to be much more motivated to get out of the house at night and on the weekends. For the construction industry, that means growth in the Entertainment, Hospitality, Restaurant & Sporting Facility markets. These are the construction niches where Watkins Landmark has always excelled. It is this prognostication that I want to pass onto you. We see this as a time to take advantage of the low construction costs and start investing in the market sectors mentioned above. If you agree with this prediction, we are here to help make your vision a reality.
Please contact us to discuss your upcoming projects. Whether you have a permitted set of construction documents or just an idea sketched out on a cocktail napkin, Watkins Landmark would like to discuss it with you. Watkins is a general contractor that specializes in the design and build services as well as construction management. Value engineering is the hallmark of our estimating department. We can guide your company through all the steps of design and construction until you see your vision become an open facility to the public. Please contact me by replying to this newsletter if you are interested.
Our first article in today's newsletter is about Watkins Landmark's most recent project completion at the Hotel Del Coronado. While we are still working on the Retail & Fitness Facility tenant improvement projects at HDC, we have recently completed the total renovation of the Spa & Salon. The Spa & Salon Renovation project is the 4th project we have completed at San Diego's most iconic landmark hotel and resort. At the risk of hyperbole, it has been an honor to work at the Hotel Del Coronado. Since we opened our doors at Watkins Landmark Construction on October 27, 2004; our core purpose has been to "Build Landmark Projects".
Usually we write two articles in our newsletters, but we were so overwhelmed with the response to our request for dogs to feature in our Company Culture section, that we had to drop the second article altogether. As stated below, this section will feature the "The Dog Days of Summer (a.k.a. the Dogs of Watkins Landmark)".
Our Company Culture section covers "The Dogs of Watkins Landmark." We are very proud to have dog-friendly offices. As you have seen from the many pictures of our mascot Winston on the company Facebook page (as well as his own!) or in our newsletter. However, he is not the only dog in our offices. Below you will see and read about our employee's dogs as well as some of our clients and subcontractor's dogs.
Thank you for all of your comments and suggestions for our newsletter over the years. We truly try to incorporate the best of the remarks into our periodical. You can always click on my name and email me at Jody James Watkins with any observations or critiques.
Sincerely,

Jody James Watkins
CEO/Founder
WATKINS LANDMARK CONSTRUCTION
San Diego / Inland Empire
---
Hotel Del Coronado
Completion of the Spa & Salon Renovation Project
The Hotel Del Coronado is San Diego's most recognized National Historic "Landmark" that tells a story of our Fine City with its majestic architecture and timeless design, the perfect setting for a Watkins Landmark Construction renovation project. On the ground level, adjacent to the first tenant improvement project which we built in 2019 at the Hotel Del named Serea Restaurant, is the Spa & Salon project. WLC has recently completed the comprehensive renovation of this facility. As you can read from the Hotel Del website, they plan on re-opening the Spa & Salon before the end of September 2020.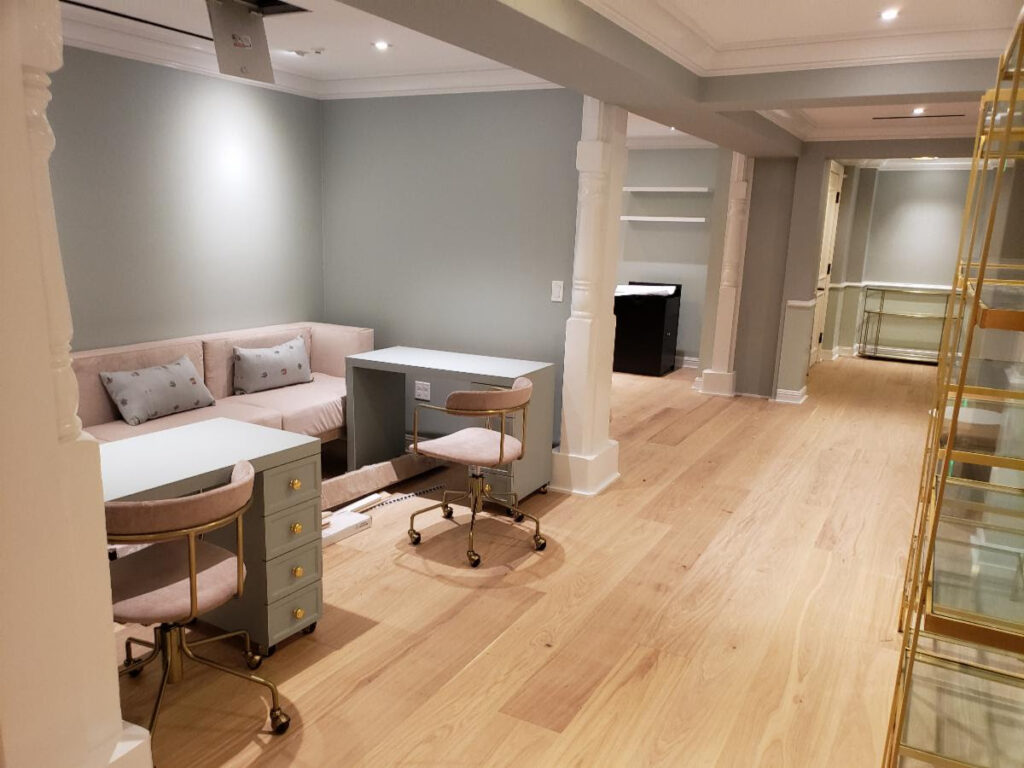 As promoted by the 'Del', the Spa & Salon is a coastal sanctuary that taps into the healing power of the sea. The purpose of this sanatorium is to relax with the aid of ocean-inspired treatments that will soothe your mind, body, and spirit. When the Hotel Del opened up in 1888, the entire development was promoted as a health resort due to its abundant sunshine and restorative ocean air. This promotion makes the Spa & Salon, while located far from the central turret and in the north end of the Hotel, one of the most important high-end services that are expected by the guests who make their annual pilgrimage to the HDC.
Throughout the history of the 'Del', many politicians, celebrities, and other dignitaries have stayed in San Diego's most famous hotel. The picture located to the right of this text is of President Benjamin Harrison when he stayed at the Hotel Del in 1891. President Harrison was the first sitting US President to visit San Diego. Along with the President, other well-known individuals who have graced the doors of the Hotel Del Coronado include but is not limited to Charlie Chaplin, L Frank Baum, President William Taft, Charles Lindbergh, and of course Tony Curtis, Jack Lemmon & Marilyn Monroe while filming the classic movie "Some Like It Hot" on location.
Our on-site project team deserves high praise not only for the completion of the Spa & Salon project but also for the Retail & Fitness Tenant Improvement projects that are still under construction. Kudos go to Billy "Captain America" Bagby, Matt "Viking" Dolan, Marco Pena, Belen Tillet, Obhi Dewan, Jerry Carter, Jesse Nelson, and Mike Gallardo. Great job and keep the momentum going as we finish up the Retail and Fitness Tenant Improvement projects.
---
The Dog Days of Summer! (aka The Dogs of Watkins Landmark)
Watkins Landmark's offices have always been dog friendly. Far before our mascot "Winston Churchill Watkins" was ever born (Today is his 6th Birthday!!!!), we had dogs roaming our hallways (and stealing burritos off employee's desks) and sitting in on meetings. With the Coronvirus leading to an increase in the adoption and rescuing of dogs, we thought we would cover "The Dogs of Watkins Landmark". Furthermore, August 26 is International Dog Day. Below are some of the dogs you might run into when visiting one of our offices or site trailers.
Dog's Name: Winston Churchill Watkins
Dog's Owner: Jody James Watkins
Office Location: Carlsbad HQ
Job Title: Mascot
Personality Traits: Will chase a tennis ball until he drops from exhaustion. He regularly greets people as they come into our Carlsbad headquarters. As you can see from the picture; he likes to sit in on meetings, whether in the chair, on the floor, or in our CEO's lap.
Bad habits: Marks his territory wherever inside or out. He sees every visitor as a salt lick. If you are wearing shorts, you have been warned.
Dog's Name: Kila
Dog's Owner: Belen Tillett
Office Location: Carlsbad HQ / HDC Project Site
Job Title: Job Site Therapy Dog and Frisbee Fetcher
Personality Traits: Sweet and smart girl. Kila is easily excitable and is willing to do tricks for treats. Homebody but loves to explore and go on adventures
Bad habits: Doesn't know her own size: thinks she's still a lap dog and frightens new people when she tries to greet them.
Dog's Name: Chapo & Emma (r to l)
Dog's Owner: John Gonzalez
Office Location: Carlsbad HQ
Job Title: Director of Business Development
Personality Traits: Hyper, Friendly, Spoiled, Demands Attention
Bad habits: Emma snores pretty loud and they both can clear a room when they fart.
Dog's Name: Remy
Dog's Owner: Kathy (My Better Half) but Remy Chose Me (Iraj) as the Official feeder & walker
Office Location: Carlsbad HQ
Job Title: Scheduler
Personality Traits: Extremely Selfish
Bad habits: Constant Whining, and Never Get Close to Him When He's Eating
Dog's Name: Drago
Dog's Owner: Oscar Iniguez
Office Location: Hotel Del Coronado Project Site
Job Title: Senior Superintendent / Executive
Personality Traits: He is very sweet and patient with my Niece and Nephew Elizabeth and Ethan.
Bad habits: Destroys Landscape, Chews on Everything, Kills Rabbits
Dog's Name: BooBoo & Yoda
Dog's Owner: Missy Manning
Office Location: Carlsbad HQ
Job Title: Indian Wells Office
Personality Traits: Both Love Kissing & Treats. Probably Because One Goes With the Owner.
Bad habits: If They Don't Get the Above, Both Will Bark Incessantly.
Dog's Name: Kenai ( pronounced key n'eye)
Dog's Owner: Matt Mahronich, Client
Office Location: Carlsbad, Beach Village Life project
Job Title: President, Beach Village Life
Personality Traits: Friendly, Scary, Loyal, Energetic, Big Dog (120 lbs.)
Bad habits: Eating Small Children
Dog's Name: Koda
Dog's Owner: Brianne English
Office Location: Carlsbad HQ
Job Title: HR
Personality Traits: Thinks he's a lap dog and loves to cuddle. Needs and wants to go for 7-8 miles of walks per day. Mamas Boy.
Bad habits: Pulls the stuffing out of all his beds and toys. Likes to poop in the middle of the street.
Dog's Name: Belvedere, Pepper, Dooley, Olive & Paisley
Dog's Owner: Kaveh Daryaie (Client)
Office Location: The DBK Group, Indian Wells
Job Title: The Scottish Terrier's Posse
Personality Traits: Playing with Kids and Grandkids
Bad habits: None According to the Owner
Dog's Name: Stella
Dog's Owner: Don & Kristine, Friend's of WLC
Office Location: San Jose
Job Title: Director of Sales
Personality Traits: No Smart but Curious
Bad habits: Emotionally Needy, Kind of Like Don Van Patten
Dog's Name: Otto Boomhower
Dog's Owner: Matthew & Stephanie Boomhower (Client)
Office Location: Southern Cross Property Consultants, San Diego
Job Title: Director of Customer Outreach
Personality Traits: Chasing plenty of balls in a large yard. The more balls, the better!
Bad habits: Unending appetite for snacks and biscuits.
Dog's Name: Lucy
Dog's Owner: Richard Uribe
Office Location: Carlsbad HQ
Job Title: Estimator
Personality Traits: Submissive
Bad habits: None (the author does not believe Richard's claim)
Dog's Name: Rona (A Tijuana Rescue Dog)
Dog's Owner: Dan & Leny Poulton
Office Location: Carlsbad HQ
Job Title: Roomba, as She Cleans Up Anything Left on the Floor
Personality Traits: She is great with children and very social at dog parks.
Bad habits: Nips at Ethan Poulton's butt while he is trying to run away from her.
Dog's Name: Lucy
Dog's Owner: Dennis & Veronna Dizon
Office Location: Carlsbad HQ
Job Title: COO / Vice President
Personality Traits: Loyal, Loves to Swim, Can Do Many Dog Tricks
Bad habits: Whiny, Sucks Her Paw, Spoiled.
Dog's Name: Juicy
Dog's Owner: Jared Rury
Office Location: Helix Electric, San Diego
Job Title: Preconstruction Manager
Personality Traits: Loves to hunt mice!!
Bad habits: Gets so excited to see you that she pees a little bit! Lol! She's the best dog ever though!!
Dog's Name: Sparky
Dog's Owner: Kaitlyn & Jake Watkins
Office Location: Bressi Ranch in Carlsbad
Job Title: The Original Watkins Landmark Dog
Personality Traits: Very smart dog. Can speak a little, especially when it is time to eat.
Bad habits: Will steal food from an employee's desk if given the opportunity.