"Where did the summer go?"   With the record-breaking growth we have had in 2016, many of our employees have either said or felt this sentiment.  Myself included.  The type of growth we have been experiencing brings on a new set of significant challenges.  Not just the monumental task of managing our increased capacity, but keeping true to our core values:  Pride, Trustworthy, Personable, and Persistence. When business is moving at such a rapid rate, many contractors will look to cut corners.  Take shortcuts.  Except less than the best quality.  We can't and we won't.  It would go against our brand promise that we have worked so hard over the last 12 years to establish.  We are builders with a passion at our core.  During this time of rapid growth, we will continue to adhere to our core values and take passion in the projects we build.
In this month's newsletter, we tour the new sports field project at St. Therese of Carmel, just north of the 56 in Carmel Valley.  We also have an article about our project team's TCO accomplishment at St. Patrick's Parish School.  The last announcement is about our upcoming 12th Anniversary Open House.  Our company anniversary date is October 27.  It has been a couple of years since our last open house.  A lot has changed since then, and we wanted to celebrate our 12th anniversary with our clients, consultants, subcontractors, neighbors, family, and friends.  We look forward to seeing you there!
As is our custom, we have listed birthdays over the last couple of months.  With the rapid growth our company is experiencing, our Brand Development Coordinator Brianne Searl came up with a great idea to add a 'Promotions & New Hires' section to our newsletter.  You will find this below the Birthdays section.
Please keep your comments and suggestions on our newsletter coming!  We appreciate the comments and use the suggestions to improve our news bulletin.
Jody James Watkins
CEO / President
WATKINS LANDMARK CONSTRUCTION
Carlsbad / Indian Wells
---
St. Therese of Carmel
The play area is our 3rd awarded project at St. Therese of Carmel. We are very honored to consistently be awarded projects at this wonderful church and school.
The play area project will consist of a new soccer field with artificial turf, a 50+ yard running track, and spectator seating. So far the majority of this job has been infrastructure work. The storm drain retention system (Storm Tech) and French Drains have been installed. Footings placed and the RCP masonry walls erected, including (20) steel netting poles which extend 24′ above the masonry walls and are incorporated in the wall footings.
Due to concern for the safety of their students and athletes, the school recently decided to add 5′ tall padding around the perimeter of the entire playfield.
The site has presented some challenges along the way but our project team has done a great job of facing them head-on.
One of those challenges is the Kinder Morgan fuel pipelines that stretch directly next to the site. Kinder Morgan is the largest energy infrastructure company in North America. They own an interest in or operate approximately 84,000 miles of pipelines and around 180 terminals. The pipelines transport natural gas, gasoline, crude oil, carbon dioxide (CO2), and more. The terminals store and handle petroleum products, chemicals, and other natural and synthetic fuel. When we have had to dig within 20′ of these pipes, we are required to have a Kinder Morgan inspector onsite to supervise the construction. The dangers of constructing near these pipelines are daunting, and we are taking every precaution in order to avoid damaging the pipes and ensure the safety of the nearby community.
This job will be completed by the end of October.
---
St. Patrick Parish School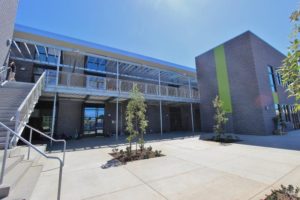 St. Patrick Parish School is a full-scale school renovation, consisting of a new state-of-the-art 17,000 SF school building, modernization of 10,000 SF of existing classrooms, and improvements to the entire playground and parking lots. The new classrooms feature clean, modern surfaces, warm finishes, and energy-efficient fixtures that welcomed the students and staff members back at the beginning of September.

A huge milestone was achieved on September 3rd, the project received TCO! We cannot begin to say enough about the team's hard work and the dedication that they put forth. Bill Bagby, Jessica Torres, Ruben Bravo, Jerry Carter, and Flynn Grace worked tirelessly over the holiday weekend to ensure the students all had a great experience for their first day back.
The big day was September 6th, as school officially started.  We received lots of positive feedback from parents, students, and faculty, all had nothing but great things to say about the new school, and they thanked our team for their hard work and dedication. We are now in the final finishing stages of phases 2 and 3, and within the next 6 weeks will have the entire campus complete. As a company, we feel very fortunate to have had the opportunity to be a part of this amazing school and community.
---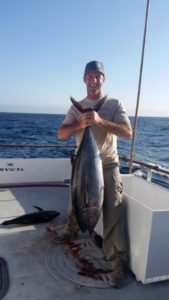 Promotions
Oscar Iniguez to Senior Superintendent (SD)
New Hires
Our company has nearly doubled in employees within the past year due to our growing list of Landmark projects, and we would like to recognize those who have joined our team since the last newsletter.   
Matt Holcomb, Assistant Project Superintendent (IW)
Alberto Salazar, Project Superintendent (IW)
Jeff Scott, Senior Project Superintendent (SD)
Flynn Grace, Carpenter (SD)
Molly Watson, Receptionist (SD)
Sandi Fowler, Human Resources Generalist (SD)
Sandy Robinson, Project Manager (IW)
Jeff Wetherholt, Assistant Superintendent (IW)
Steven Lotz, Project Manager (IW)
Kevin Fultz, Senior Superintendent (SD)
H&M Fishing Excursion
Some of our Watkins Landmark employees were treated to an overnight fishing excursion in August with H&M Landing. On the ship the guys played some competitive games of poker, socializing, and of course a lot of deep-sea fishing!
---
Birthdays