Watkins Landmark's 
February

 2021 

Newsletter

Hello,

This year has gotten off to a shotgun start (terminology familiar to golfers and tournament bass fishermen) for Watkins Landmark! Between our Bonita Glen Apartments and multiple Soapy Joe's Car Wash projects. The pace needed to complete these projects on time will truly require a Herculean effort. Fortunately, these are the type of projects where Watkins Landmark truly shines. Projects with Hair (i.e. extremely difficult projects) on them would be one of our niches. High-quality projects with ornate finishes for high-profile clients are another. And as 2021 will demonstrate again, fast-paced projects with substantial completion dates that seem impossible to meet is another niche. You need to look no farther than the time-phased video of Watkins Landmark building the 2014 Stadium 2 for the Indian Well Tennis Garden in 10 months and 10 days.
Our first article in this newsletter is about our Bonita Glen Apartments project. Bonita Glen is the largest apartment project we will have built to date in the County of San Diego, Our well-oiled project team for Bonita Glen consists of Geoff Sherman, Senior Project Manager, Oscar Iniguez, Senior Superintendent, and Belen Tillet, Senior Project Engineer. Bonita Glen is the first of hopefully many upcoming projects for Silvergate Development. The Bonita Glen project will address a much-needed housing shortage in the Chula Vista / Bonita municipalities. We are looking to complete this project in the first half of 2022. Again, great work by our project management team!
Our 2nd article will be on our 2nd of two projects we have been awarded to date from Soapy Joe's Car Wash. Soapy Joe's has been voted the 2020 "Best Car Wash in San Diego" by the San Diego Reader. Watkins Landmark has broken ground on the Soapy Joe's El Cajon facility. As you might remember, we announced our award for this project a couple of months ago. In the last two weeks, we have been awarded the 2nd Soapy Joe's Car Wash. This one is located in Mission Valley.
We were introduced to Soapy Joe's through our long-time construction management client firm Southern Cross Property Consultants. We will address our relationship history with SCPC in the article below.
In our Company Culture section, we say goodbye to one of our longest-term employees. Dan Poulton was one of our initial building blocks at Watkins Landmark Construction. Like many companies, COVID has inflicted significant changes of personnel at Watkins Landmark. While these moves have made WLC more competitive, saying goodbye to employees like Dan Poulton is painful at best. We wish him all the luck in his future career with BNB Builders. We also thank him for the work he has put in over the last 15 years in helping us grow Watkins Landmark from a small 5 person company to a corporation that regularly breaks $100 million in revenue annually. At the end of the day, all we can do is say "Thank you Dan, and good luck in your future endeavors."
Thank you for all of your comments and suggestions for our newsletter over the years. We truly try to incorporate the best of the remarks into our periodical. You can always click on my name and email me at Jody James Watkins with any observations or critiques.
Sincerely,

Jody James Watkins
CEO/Founder
WATKINS LANDMARK CONSTRUCTION
San Diego / Inland Empire
---
Bonita Glen Apartments
Watkins Landmark is off to a flying start on our first project with Silvergate Development
Over a year ago, Silvergate Development engaged Watkins Landmark Construction in handling the preconstruction phase of their $30 million-plus apartment project located by the Bonita exit off Interstate 805. This apartment complex, called the Bonita Glen Apartments, consists of 7 buildings containing 170 Apartments over a 5.3-acre site. Out of the seven buildings, six of the buildings are three-story buildings with one a four-story built on a concrete podium. The common areas include a pool and pool amenity building. Along with the pool, the site areas include BBQs and two bridges that cross a seasonal stream bed. Each unit at Bonita Glen contains the following amenities:
Premium design finishes with quartz-stone countertops, ENERGY STAR® stainless steel appliances
In-unit washer/dryer
Modern wood-look plank flooring
Floor-to-ceiling windows in living room
High 12-foot vaulted ceilings (in select units)
Private Patio or Balcony (in select units)
Refrigerator
Dishwasher
Built in microwave
Dutch doors (in select units)
Designer roller shades
Extra-large walk-in closets (in select units)
Despite the rain over the last month, our stellar project team has done some great work getting this project ahead of schedule coming out of the ground. It is an old construction adage that if you want to substantially accelerate the project schedule, you must do so coming out of the ground. Once you get to framing and finishes, the only way to gain schedule is increased manpower and overtime. Coming out of the ground, you can use strategic techniques as well as means and methods to jump weeks ahead of schedule. So even though we have lost days to rain, it has not overcome the gains we have made coming out of the ground.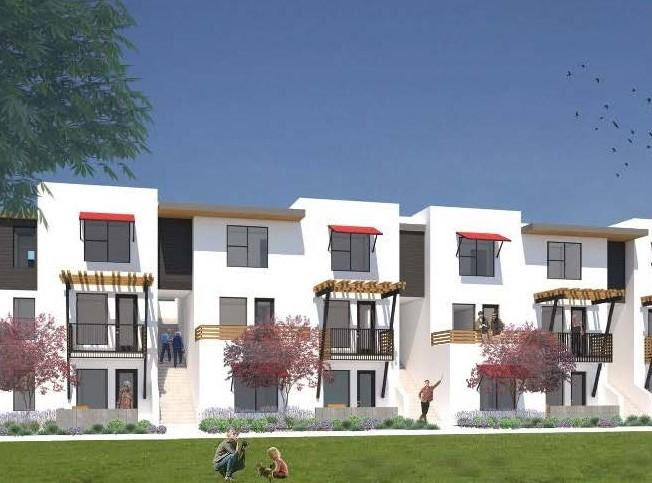 Our Wakins Landmark Team on the Bonita Glen Apartments projects has done an incredible job getting out of the ground and building a great relationship with our client Silvergate Development. Our team consists of Geoff Sherman (Former Owner's Rep. that used to work with Watkins Landmark on one of our first projects called the Heights located in Maderas), Oscar Iniguez (our most senior superintendent), and Belen Tillet, an all-star Senior PE. I am incredibly project of our team on how they came out of the gate firing on all pistons. Keep up the hard work team!
---
Soapy Joe's Car Wash
Soapy Joe's Car Wash is on a roll. As mentioned above, the San Diego Reader voted Soapy Joe's Car Wash the best car wash in San Diego per their 2020 addition. Soapy's master plan is nothing short of impressive. And the high-level service demonstrated by the staff at the Soapy Joe's Car Wash makes a clear separation between them and their competition. As we stated in our first announcement a couple of months ago, Watkins Landmark is very proud to have been awarded our first Soapy Joe Car Wash facility in El Cajon a couple of months ago. Now we have been awarded the 2nd Soapy Joe's Car Wash in as many months. Based on these awards. Watkins Landmark's goal is to assist Soapy Joe's in building the rest of their master plan across Southern California. Thank you Soapy Joe's! We will not let you down!
The history of work between Southern Cross Property Consultants, Construction Manager for Soapy Joe's Car Wash, and Watkins Landmark Construction stretches almost two decades. The three of us met during the Summer of 2000 on the Petco Park project in the Gaslamp Quarter of Downtown San Diego. I was with Clark Construction at the time. Dennis Dizon (now the current WLC President) and Matthew Boomhower (now the CEO of Southern Cross Property Consultants) were already on-site working for Nielsen Dillingham. The 3rd general contractor that made up San Diego Ballpark Builders Joint Venture was Douglas E. Barnhardt Inc. While there was no way to know at the time, the three of us have certainly been grateful to work with each other over these past two decades on dozens of projects.
---
Farewell to Dan Poulton, VP of Construction
I met Dan Poulton in the fall of 1999. Dan was working for Clark Construction in Raleigh Durham, North Carolina at the time but wanted to move to California. I was one of the Project Managers on the initial Indian Wells Tennis Garden at the time. The project was screaming towards an unmovable substantial completion date and Clark was throwing anybody they could at the project. Through this cauldron of 80 hour work weeks, Dan and I struck up a friendship that has lasted to this day.
Since that time, Dan was hired as one of our "First 5" employees. Fortunately for Dan, the love of his life was also hired as one of our "First Five Employees". Since Dan met Leny Iniquez at WLC, they have gone on to have two beautiful children in Elizabeth and Ethan. Dan and Leny have always been more than employees, they are family.
During Dan's tenure at Watkins Landmark, he has been instrumental in building many of our iconic projects such as Solana Beach Presbyterian Church, Scripps Park West, Hotel Del Coronado, Spike Afrika, and our award-winning San Diego Jewish Academy. Thank you Dan for all your hard work that has helped us become the company we are today. You will be missed.