Watkins Landmark's November 2020 Newsletter ~ Movember Addition
Hello,

One of our many charitable traditions at Watkins Landmark is Movember. Hence the reason for my awful 'handlebar' mustache shown in the adjacent picture. That and my COVID 19 'Grid #2' home haircut really makes my appearance during this November downright bizarre. While I was striving to look like Tom Hardy in the Bronson movie, I actually look like a hairy cantaloupe wearing steampunk glasses. While my visage might look downright strange, this is all part of Watkins Landmark's philosophy when it comes to raising money for charities. The philanthropic giving from our company should not only be effective but fun as well. Movember has always been a good time as I truly find it fun to grow some sort of bizarre facial hair. Bald guys usually do. If you are bald on top of your head, more often than not your facial hair is very thick. We ask that you double click on the Movember link above and help me hit my financial goal. Thank you in advance.
The Dead Zone. Not the Stephen King Book and Movie, but what I have always considered the time between Thanksgiving and the new year in the construction industry. Since starting my business 16 years ago, I have noticed that no matter how hard you work on a project during the business development process, it has very little chance of breaking ground during the 'Dead Zone' So obviously having a substantial backlog as we approach the holidays is of the utmost importance. As I have indicated in previous emails, despite the COVID 19 challenges, we are slowly rebuilding our backlog to pre COVID levels. The picture on the right of this paragraph is employee #1 Oscar Iniguez and me as we fulfill a company tradition of walking the site during mobilization, smoking cigars, and marking out where the Watkins Landmark construction signs will be placed. This week, our subcontractor Crew Builders will break ground on this $30 million apartment project. Great job by our Project Team Geoff Sherman, Oscar Iniguez, and Billen Tillet getting this project ready to commence work during the 'Dead Zone'. I look forward to visiting my team on site this week!
Our 1st article is on the completion of the Guardhouse / Winded Entrance project off Portola Ave at the Vintage Club. This has been the maiden project with our design partner The DBK Group. The Project was completed in record time all while allowing the Vintage Club's Security Department to continue to be one of the most professional operations run by an HOA. Keeping the security apparatus running at its most efficient during the construction process was one of our top priorities. That part of our scope as well as the condensed schedule made this a very difficult project. Our WLC team that consists of Obhi Dewan, Robert Veague and Missy Manning did an outstanding job not only meeting but exceeding our client's expectations. Great job by our Watkins Landmark team!
Our 2nd article is actually a plea for our readers to donate to Loaves & Fishes Food Pantry in Ocean Beach during this Holiday Season. We all know the Coronavirus has been extremely tough on our economy. Furthermore, during past recessions, the first thing a family eliminates from the budget is charitable giving. With Loaves & Fishes still experiencing a quadrupling in their clientele's needs due to COVID 19, we ask that you make an exception and give it to their Food Pantry. You will find the details on how to give and what is needed by Loaves & Fishes listed in the article below.
Thank you for all of your comments and suggestions for our newsletter over the years. We truly try to incorporate the best of the remarks into our periodical. You can always click on my name and email me at Jody James Watkins with any observations or critiques.
Sincerely,

Jody James Watkins
CEO/Founder
WATKINS LANDMARK CONSTRUCTION
San Diego / Inland Empire
---
Vintage Club Guard House
As the Pyramids Near Competition, the Guardhouse / Widened Entry is Fully Functional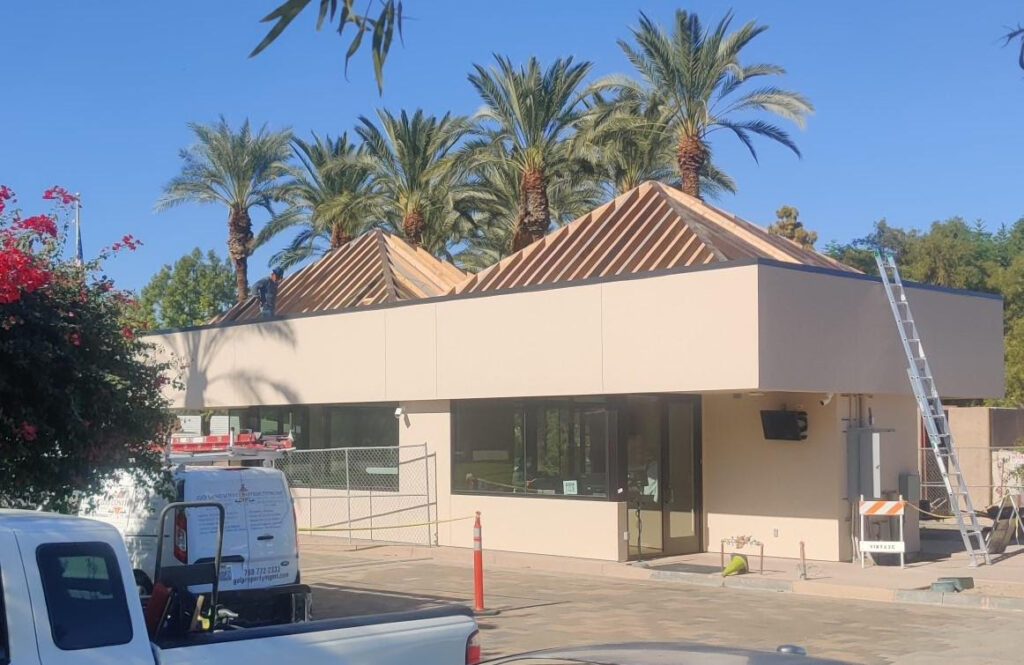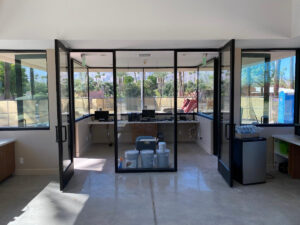 The Vintage Club Guardhouse / Widened Security Entrance has achieved a Temporary Certificate of Occupancy (TCO). While the entrance is fully functional, Watkins Landmark is currently finishing the iconic pyramid structures that decorate all of the common (HOA) buildings throughout this exclusive community. Those and the gates have been the long lead scopes for this project. On November 30th, the pyramids will be complete.
With the success of the Portola Entrance Guard House project, the Vintage Club is already planning for an extensive renovation of the main Cook Street entrance. The DBK Group, the #1 designer in the desert, has already started on the conceptual drawings. The renovation of the Main Entrance should start construction within the Spring of 2021.

This is our first project with The DBK Group. It clearly won't be the last. The instant synergy that occurred between Watkins Landmark and The DBK Group was immediate and obvious to both companies. Going forward, this partnership will result in many successful projects for years to come. Both companies specialize in designing and building "projects with hair" on them. This metaphor refers to difficult, custom quality projects for Owner's who will accept nothing less than the best. The DBK Group has done an incredible job bringing WLC into the prestigious, custom home, gated HOA neighborhoods. Since the day I met Kaveh, CEO and Senior Designer, we knew we had lightning in a bottle. I look forward to many more years collaborating with The DBK Group. A special thank you goes especially to Kaveh and Stephan for naming Watkins Landmark as the best General Contractor to build their cutting edge designs!


Our Wakins Landmark Team on the Vintage project has been Obhi Dewan, Robert Veauge, and Missy Manning. Great job by the Watkins Landmark Team Project Management Team. This has been a fast-moving project and you guys kept up with the whole way. You have done an outstanding first step in establishing a great relationship with the DBK Group. I am incredible project of our team.
---
Loaves & Fishes Needs Your Donations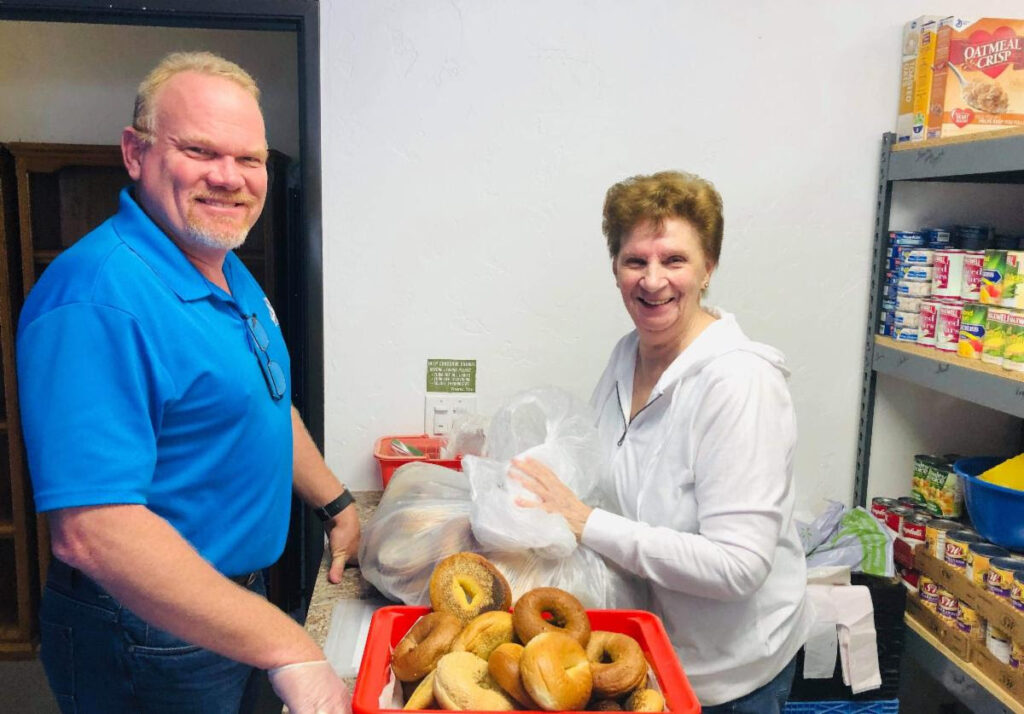 As many of you know, Watkins Landmark has been a supporter of Loaves & Fishes Food Pantry of Ocean Beach since 2014. The clientele for Loaves & Fishes is not just limited to the homeless of their community, but working people who simply can't afford rent & food in the same month. Since the Coronavirus hit our world last March, our clientele has quadrupled. The need for donations is greater than ever. Watkins Landmark asks that you click on DONATE and give what you can. Even $20 would make a world of difference. You can also drop off food, socks, and toiletries or just simply volunteer your time. If you have any questions on how to go about donations that aren't done online, please contact me directly. I would personally be grateful for any donation you can give during these trying times. Thank you in advance.