Watkins Landmark's October 2020 Newsletter ~ Breast Cancer Awareness Month Addition
Hello,
As October winds down, the opportunities for Watkins Landmark are poised on the horizon, just ready to break wide open. This month we are mobilizing on our Bonita Glen Apartments project, a large multi-family complex we will build for Silvergate Development. We are also very close to announcing several project awards that include a carwash project, potentially a casino project as well as many more! While the construction industry, as well as the business world in general, has taken an awful beating due to the Coronavirus and the subsequent pandemic restrictions, I am incredibly proud of how my team here at Watkins Landmark has ridden out one of the most difficult economic periods of our lifetime. There have been many days this year where the challenges created by this pandemic would make it easy enough for us to just pack it in. It is during those times we fall back on one of our values: Persistence.
In my first semester at Arizona State University, I was a pledge with Phi Gamma Delta (aka FIJI) Fraternity. One of the requirements to becoming a full-fledged Brother in the Alpha Sigma Chapter with the FIJI's was to memorize the Persistence quote. Persistence is a quote by Calvin Coolidge, the 30th President of the United States and a Phi Gamma Delta Brother. The quote is as follows:
"Nothing in this world can take the place of persistence. Talent will not; nothing is more common than unsuccessful men with talent. Genius will not; unrewarded genius is almost a proverb. Education will not; the world is full of educated derelicts. Persistence and determination alone are omnipotent. The slogan Press On! has solved and always will solve the problems of the human race."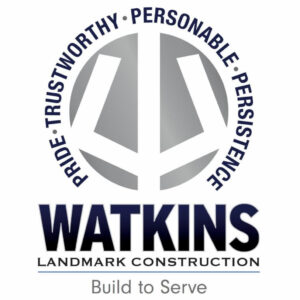 At the time, I didn't think much of having to memorize this quote. Just something to add to my schedule of formals, classes, study groups, intramurals, part-time warehouse work, and boondocks. Now looking back over the past 30 years, not many days go by where I don't remind myself of this quote. It has become a quote I live by as well as one of Watkins Landmark's values (see the logo on the left). It is the value that got Watkins Landmark through the Market Crash of 2008 / 2009 and it will be the value that gets us through COVID 19.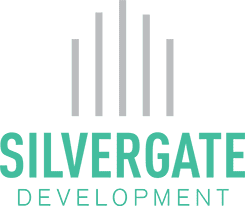 Our first article in today's newsletter is about our Bonita Glen Apartments project for Silvergate Development. Over the past year, we have been working side by side with Silvergate through the preconstruction process. We are very excited to finally break ground this month on the 170 unit multi-family projects located right off Interstate 805 in Chula Vista. This will be the first project to date we will build with Silvergate Development. This is also the biggest project we have broken ground on since the Coronavirus and all its restrictions hit our economy.
Our 2nd article is on the Fitness Center project at the Hotel Del Coronado. As our readers know, we have been blessed to have built over a half dozen projects to date at one of San Diego's most iconic Landmarks. As we near completion of the Fitness Center Renovation project, we wanted to write an article on our project management team that has made these projects so successful as well as share pictures of the finished project coming together. Great job by our on-site WLC team!
Thank you for all of your comments and suggestions for our newsletter over the years. We truly try to incorporate the best of the remarks into our periodical. You can always click on my name and email me at Jody James Watkins with any observations or critiques.
Sincerely,

Jody James Watkins
CEO/Founder
WATKINS LANDMARK CONSTRUCTION
San Diego / Inland Empire
---
Bonita Glen Apartments Project
WLC breaks ground this month on our first anchor project since the start of the Coronavirus
Next week, we are scheduled for our long-awaited official groundbreaking on the Bonita Glen Apartments project for Silvergate Development. As we have stated in the introductory article by our CEO / Founder Jody James Watkins, we have been in the preconstruction process for over a year. Despite the Coronavirus, Silvergate Development has done a great job of continuing to push for this project to commence in a timely manner. In the subtitle, I refer to this project as an "Anchor" project. In the construction industry terminology, that word means a project of significant size in acreage, square feet, stories and/or units. Most importantly, the project size is such that it will require a full WLC management on site for over a year. Bonita Glen Apartments project certainly meets all these requirements.
As stated above, Bonita Glen's 170 units sit on 4.7 acres of empty property in Chula Vista. Some of the amenities that come in these units include quartz stone countertops, stainless steel appliances, floor-to-ceiling windows in the living room, 12-foot vaulted ceilings (in select units), and extra-large walk-in closets. On top of that, the community amenities include a pool/spa area, dog park, smoke-free community, and a resident clubhouse. All of this on top of easy access to the fine dining, breweries, and shopping located on the east side of Chula Vista.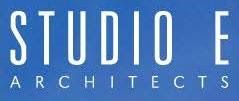 Silvergate Development selected Studio E Architects to design the Bonita Glen Apartments project. Studio E is based in San Diego, California but works throughout the Southwestern United States and has built a varied body of work ranging from private residences to affordable housing, mixed-use, civic, and urban planning projects. We look forward to working with them throughout the duration of the project.
The Watkins Landmark project team will consist of our latest addition, but long time collaborator Geoff Sherman as our Senior Project Manager, Oscar "Employee #1" Iniguez as our Senior Superintendent and Belen Tillett as our Senior Project Engineer. Our WLC Team is anxious to mobilize, break ground and build Chula Vista's next Landmark structure!
---
Hotel Del Coronado
Fitness Center Nearing Completion
The Fitness Center, our sixth project at the Hotel Del Coronado is nearing substantial completion. Before we state the project highlights and specifics, I wanted to mention the one thing (or person) that has tied all our successful Hotel Del projects together: Billy "Captain America" Bagby! Through the consistent positive feedback from the client, it has been made very clear that Billy is the foundation to our Hotel Del project team and one of the main reasons we continue to get work at this iconic landmark. His leadership characteristics are based on his many years working himself up through the trades. Over 8 plus years at Watkins Landmark Construction, Billy has worked his way up from Carpenter to Senior Superintendent. All the while taking his time to mentor our other field personnel and making them into better employees. He is literally one of the major cogs in the machinery that is our field staff. Great job on another successful project Captain America!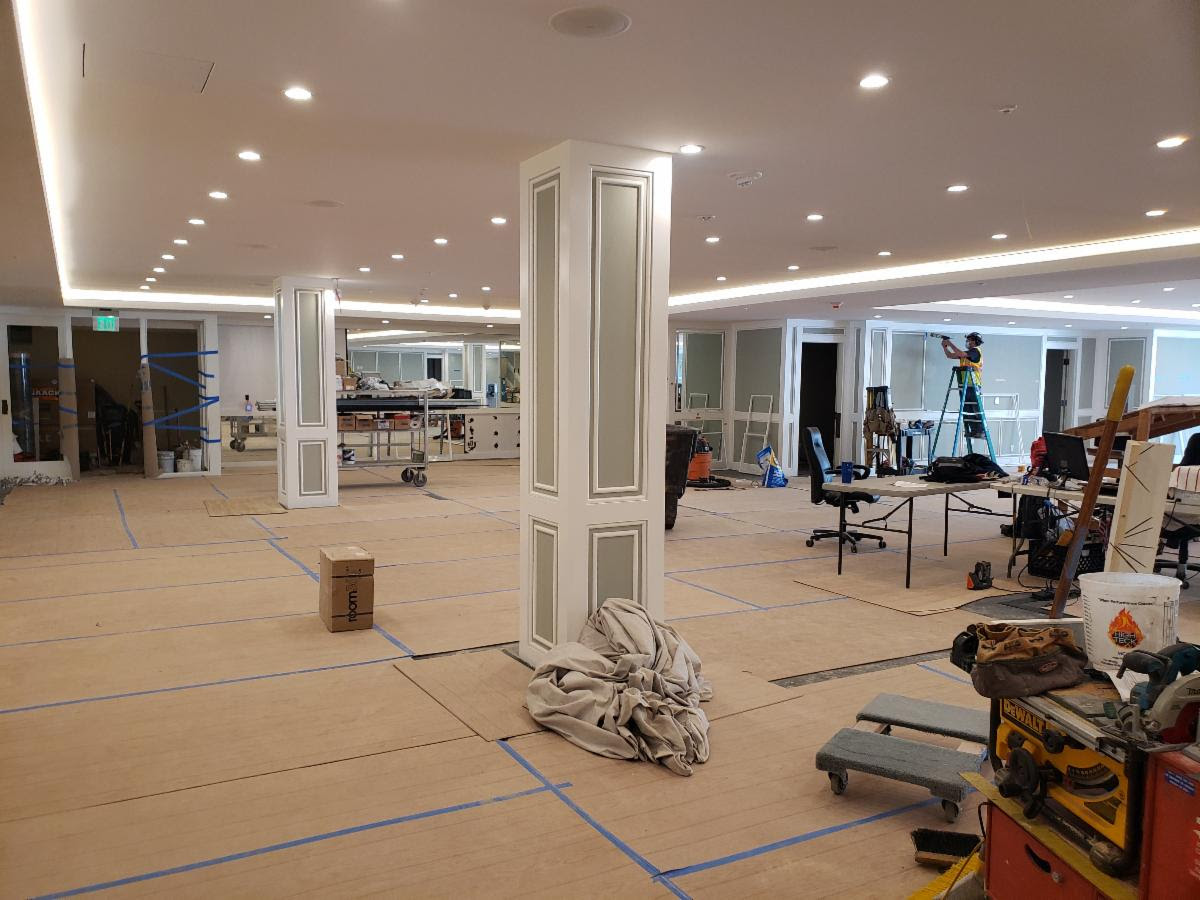 The Fitness Center at the Hotel Del Coronado is located beneath the Spa at the Del we finished last month. This location put the Fitness Center precariously close to being under Sea Level and within the water table. Fortunately, during the Tenant Improvement project, we did not suffer any water intrusion. Part of our scope was removing a large skylight and closing it off. The skylight, which was on grade above the underground Fitness Center was adjacent to the entrance of the spa. Because the skylight had been leaking during the rains for many years, the 'Del made the decision to remove it, fill it in with concrete, and make the area an outdoor aerobic stretching pad. The Fitness Center also opens up to a lower level outdoor pool deck with cabanas & a bar. In the picture below, you can see daylight coming through the storefront windows that are between the Fitness Center and the outdoor pool area. We look forward to showing our readers the final finished product pictures in the coming month. Keep pushing through the finish line WLC Team! That goes for Matt "Viking" Dolan, Marco Pena, Jerry Carter, Mike Gallardo and Jesse Nelson as well as Captain America!