Since 2009, March has always been a big month at Watkins Landmark Construction. In 2009, we built our first project at the Indian Wells Tennis Garden. Every March, the BNP Paribas Open, one of the world's biggest professional tennis tournaments, is held at the Indian Wells Tennis Garden. This event draws tennis fans from all over the globe filling every hotel in the desert. For Watkins Landmark, it means a "can't miss" deadline to wrap up our annual improvement projects. It is also time to celebrate our accomplishments from the last year at this world-class tennis facility, while we begin to plan the next year's improvement projects. It is also the month that contains St. Patrick's Day. Having Irish roots (and red hair), we always make sure to have a good time on St. Patrick's Day.
This month has also become our best month ever for new project awards! The awards include the Hoehn Buick-Cadillac Service Building and
Parking Structure Addition, White Sands Assisted Living Facility Renovation, St. Therese of Carmel Play Field, and an extensive renovation of the Stadium 1 facilities at the Indian Wells Tennis Garden to commence after the 2016 BNP Paribas Open. We have been incredibly fortunate this month and I am personally thankful for the great team of builders who work at Watkins Landmark Construction.
This month's news bulletin includes an announcement on our Hoehn Buick-Cadillac Service Building and Parking Structure Addition along with an article on this year's improvement projects constructed in Stadium 1 at the Indian Wells Tennis Garden. This year we modified the court and seating to improve the sightlines, added a Champion's Box and Club as well as built a VIP Entrance Building. Most of these improvements will be visible during the worldwide television broadcast of the BNP Paribas Open.
As is our custom, we have listed birthdays over the last couple of months of our growing staff! Please keep your comments and suggestions on our news bulletin coming! We appreciate the comments and use the suggestions to improve our news bulletin.
---
WLC is Awarded the Hoehn Buick-Cadillac Service Building and Parking Structure Addition
We were awarded the Hoehn Buick-Cadillac Service Building and Parking Structure Addition located in Car Country Carlsbad on approximately a 3.0-acre site. The showroom building and adjacent site improvements were renovated in 2015 however, the scope of this project is still quite large. The project consists of demolition of the existing Parts & Services Buildings, totaling approximately 19,093 square feet, and replace it with a new building that has 2 levels of parking. This new structure will be approximately 74,695 square feet not including the rooftop parking level which is approximately 35,439 square feet. This will bring the total square footage to 110,134. The proposed area for the building and adjacent new site improvements is 1.29 acres. The first floor of the building will consist of 38 service bays; lifts, alignment, wash and details, oil compressor areas, technician restrooms, and lockers, break room, parts storage department, parts boutique, offices as well as passenger elevator and stairs. Additionally, there will be a bin-supported parts mezzanine.
This award would have not been possible without the Horine Group. This will be our 12th project with the Horine Group and we could not be more thankful for the opportunities that they have provided to us. Also a huge congratulations to our employees who helped make this possible; Dean Schumacher, Charley Lowe, Beth Hicks, Scott Zuppan, Barbara Thomsen, Dan Poulton, Stacey Hermanson, Brianne Searl, and Tan Pham.
---
WLC finishes 2016 Stadium 1 Court Renovations
The Indian Wells Tennis Garden Stadium 1 Court Renovations included: Champions Box & Lounge, New Seating, and Lowered Court. As with all projects with the Tennis Garden, this one had a deadline set in stone. Watkins Landmark had only 6 months to complete all renovations in preparation for the
BNP Paribas Tournament.
"The court surface in Stadium 1 is being lowered by approximately 28 inches, in order to move the television camera positions off of the court and into a recessed area similar to the new Stadium 2 placement. The new green seats in the lower bowl will be a bit larger and include cup holders. To accommodate the additional size, the railings around the seats are being removed, with the exception of aisle railings. A portion of the old seats from Stadium 1 will be re-purposed for permanent seating for spectators around the practice courts." (BNP Paribas Open Website)
A special thanks and congratulations to our awesome project team, this project would not have run as smoothly or turned out so flawlessly without all of you.
Audrey Bell & Matt Dolan (Project Managers)
Seth Sherrod (Senior Superintendent)
Brad McNulty, John Munoz, Jorge Barrera & Mike Johnson (Superintendents)
Joy Tsou & Obhi Dewan (Project Engineers)
Greg Olson (Field Engineer)
Anna Chavez (Administration)
Rick Potter (MEP Coordinator)
Tan Pham (Intern/3d Modeler)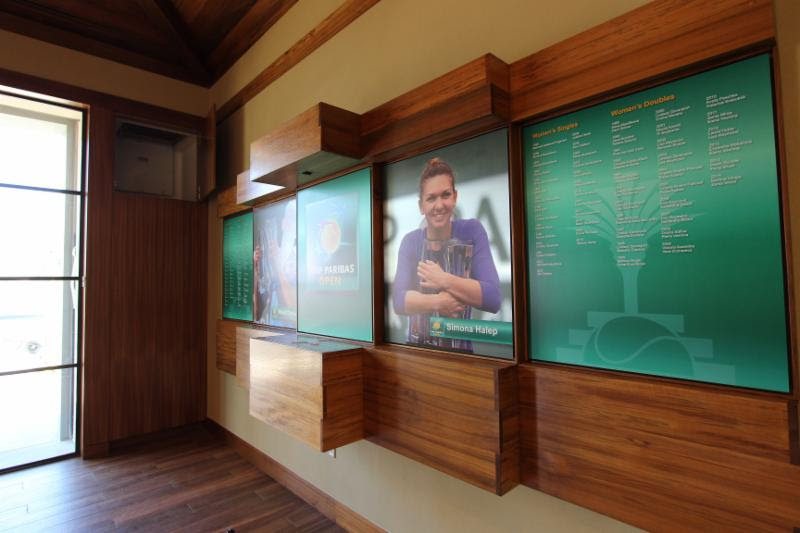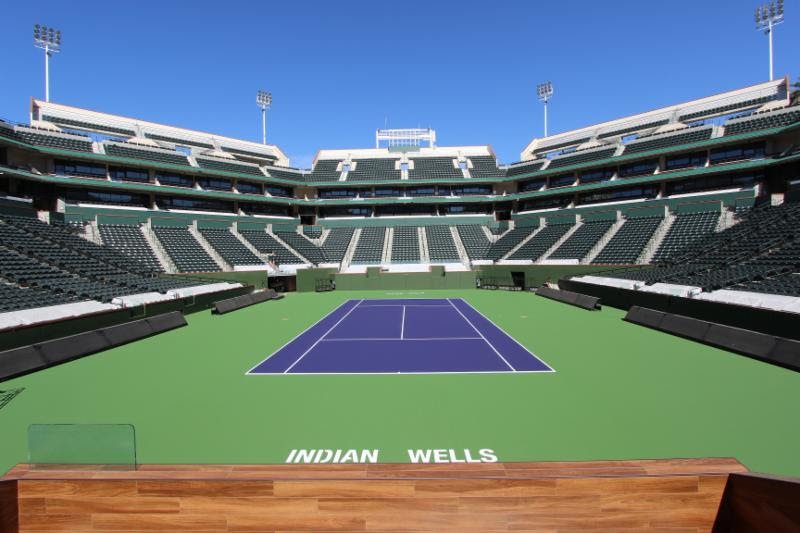 Birthdays