Watkins Landmark Construction has begun the year with a full head of steam. While the holidays are usually a slow time in construction, we barely had time to catch our breath. Our team is growing at a rate greater than any previous precedence in company history. Between onboarding our new team members and getting some of our incredible projects underway. We were also fortunate enough to hold our annual Christmas Party at South Coast Winery in Temecula this year. This scenic location made this year's holiday party go down as one of the best in the history of our company. It was definitely a great way to reward our team for all the hard work they put into the company in 2015.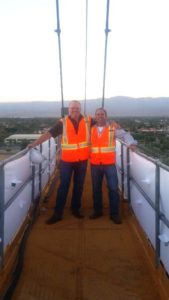 As I mentioned above, we have some exciting new projects underway in 2016. First, we have been fortunate enough to be awarded some tenant improvement projects at Angels Stadium in Anaheim.
This is incredibly exciting as it further cements our reputation as one of the predominant stadium general contractors in Southern California. Second, our work at the Indian Wells Tennis Garden is in crunch time as it is every year at this time. With the BNP Paribas Open looming in March, we are wrapping up some of our exciting Stadium 1 and Site Improvements. Lastly, our work at the Paseo Marriott is through the earthwork phase and will start the foundation phase next week.
Our featured story in this newsletter is about our project at St. Patrick's Church and School in Carlsbad. The scope of this project is renovating the site and adding much-needed campus buildings. Our on-site project team is David Torres, Project Manager, Billy Bagby, Superintendent, and Jessica Torres, Senior Project Manager. Watkins Landmark is very proud of our continued success with faith-based projects. We wish our project team the best of luck on this exciting project.
Along with our birth announcements, we say "See You Later" to one of our longest-tenured employees Leny Iniguez-Poulton. Leny is expecting her second child in February and will be taking an extended leave. We call it an extended leave because we refuse to call it goodbye. Leny has been with Watkins Landmark since its infancy. We will miss you Leny-Lou.
As always, we appreciate your comments on our newsletter. It has helped to shape it over the years. To subscribe click here.
St. Patrick Parish School
By David Torres, Project Manager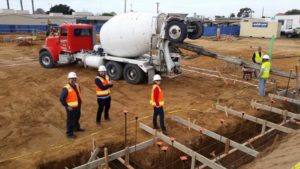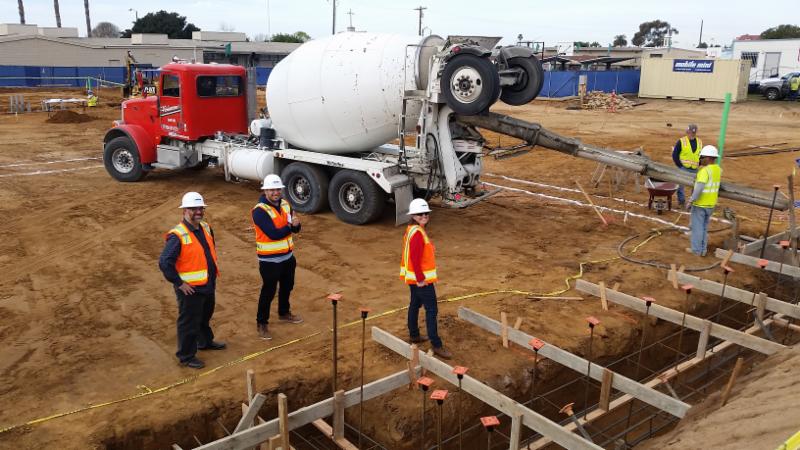 In October of 2015, Watkins Landmark was fortunate enough to be awarded the St. Patrick Parish School Improvement project which is located in Carlsbad. The project, consisting of a new two-level K-8 school building, is another project with DomusStudio Architects, and our first with Pete Kruse of Kruse Development. There have been a number of obstacles the team has had to overcome, from the morning drop off and afternoon pick up of students, to the first wave of the El Nino which ended up flooding half the school. These obstacles have been mitigated by working around the clock, thinking outside the box, and ensuring we had the right team on the project.
St. Patrick Parish School is located less than a mile from the beach and has an enrollment of over 450 students. Operating between 8:00 am and 2:45 pm as a school, St. Patrick's also serves after hours as a daycare and holds after school programs. The school staff has been accommodating in helping us to run a smooth operation and will continue to play a role in the successful completion of the project. Improvements we are making to the facility include a new chapel, a new 2-story state-of-the-art school facility, and new site improvements which include increased parking and a new playground. These upgrades will not only alter the visual aesthetics of the campus but will also assist in bettering their daily operations. As you can imagine, Saint Patrick Parish School is an extremely active facility. Coordinating work in such an environment is definitely a challenge, but we here at Watkins Landmark Construction are accustomed to working in such conditions and are up for the challenge.
With a project team led onsite by Bill Bagby as our Project Superintendent, Jessica Torres as our Senior Project Engineer, and David Torres as our Project Manager, Watkins Landmark Construction has coordinated work at the active facility with the goal of having the least amount of impact with the school's many daily operations. Construction has been smooth onsite, with WLC coordinating its deliveries and manpower to best accommodate the school's needs. We here at WLC know that there is no "I" in the team, and a big part of our efficiency on site is due to having a great team of subcontractors and vendors who are committed to the common goal of turning over a great project.
With the expected completion of summer 2016, Watkins Landmark Construction and its team members will be working together to ensure the project meets this important client deadline. WLC is confident in delivering the project on time.
All in all, the project has been and will continue to be a pleasure to work on. For Watkins Landmark to be associated with Saint Patrick Parish School – a school that builds students not only spiritually, but mentally as well – is an honor, and we are very appreciative of the opportunity to be a part of the project.
Random Notes:
This month we had to send away one of our favorite faces in our Carlsbad office, Leny, to welcome her second child into the world. As sad as we are to see her leave, we are very excited to meet the newest member of the WLC family! Leny, you will be very missed, thank you for all you do.
Happy Birthday to the following Watkins Landmark employees:
Leny Iniguez- Poulton 1/4
Bill Bagby 1/10
Fred East 1/25
Noreen Tripp- Hudson 1/30