November Newsletter
In the middle of this holiday season, I find myself burning the candle at both ends to ensure that Watkins Landmark Construction starts off 2019 with a bang! As you can tell, being that our November newsletter is coming to you almost a week late, we have been very busy over here wrapping up some loose ends before 2019 begins. I am very proud of our team; they have endured many changes and a few growing pains through 2018. Through it all, they have stayed strong and hard-working, and because of that, I am spending this holiday season feeling very grateful.
Our first article highlights our Quarter Project, located in Moreno Valley. We have featured it a few times over the past year, but that is because this job site has many exciting pieces and it is constantly progressing. We have 4 contracts over at the Quarter, which include; The Holiday Inn Express, Residence Inn by Marriott, 2 parcel buildings, and all site work. The most exciting piece of news is that the Holiday Inn Express is going through the final stages! Great job to our team out in Moreno Valley!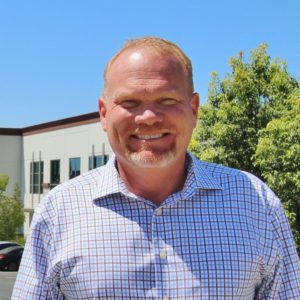 The second article features our Urban Edge project, located down in the vibrant community of Hillcrest, San Diego. We are proud to announce that we have officially topped out. You will be able to see the fabulous view from the top in the first photo of the article below. Well done to our team at Urban Edge, keep up the awesome work.
In an additional third feature article, we say goodbye to a very valued 1st employee, Dean Schumacher. Dean is taking an opportunity to help build an expansion for his church. He has always kept his faith at the center of his life, and now he can pursue that passion in a way he couldn't before. We are very proud of you Dean, though you will be terribly missed by your WLC family.
In our Company Culture section, we recap our annual experience at the Susan G. Komen Race for the Cure. Each year we sponsor a water station in honor of my mother, Cheryl Watkins. Not a day goes by that I do not miss my mom and I feel very fortunate that our team makes an effort to volunteer their time supporting such a great cause.
Please keep your comments and suggestions on our newsletter coming. We always appreciate the feedback!
Sincerely,

Jody James Watkins
CEO/Founder
WATKINS LANDMARK CONSTRUCTION
San Diego / Inland Empire / Orange County
---
The Quarter- Moreno Valley
Moreno Valley's Quarter project is making big strides in order to become a large contributor to the City's success and economic growth. The two new hotels, Holiday Inn Express and Marriott Residence Inn, which broke ground in September 2017, are already heading towards completion.
The Quarter sits on about 8.5 acres of land, with many populated surrounding locations, such as five existing apartment communities totaling in 1,532 resident units, and is only minutes away from Moreno Valley's popular mall regional center. The Marriott will have 112 guest rooms and suites with 87,617 s.f., which is the larger of the two hotels. The Holiday Inn Express will sit on 58,380 s.f. and contain 104 units for guest enjoyment. The rest of the lot is made up of parcels 1, 2 & 3, which will include retail spaces such as Z Pizza Tap Room, the Coffee Bean, and a gas station on the lot. Also, we are making traffic improvements and filling in 200+ parking spaces for guests. This will contribute to the grand cost of the Quarter of $28.3 million.
With 4 contracts working simultaneously, our team is working diligently to ensure that each piece is completed with high-quality care. The Holiday Inn is in its finishing stages with the carpet and mill-work being installed in the guest rooms, tile going down in the lobby, painting has been completed in all areas, elevator is installed, and all the electrical trim is currently being completed on the 4th and 3rd floor. Meanwhile, in the Residence Inn, the 3rd and 4th floor have been dry-walled and taping is in process, the windows have been installed, and the elevator prelim has been completed.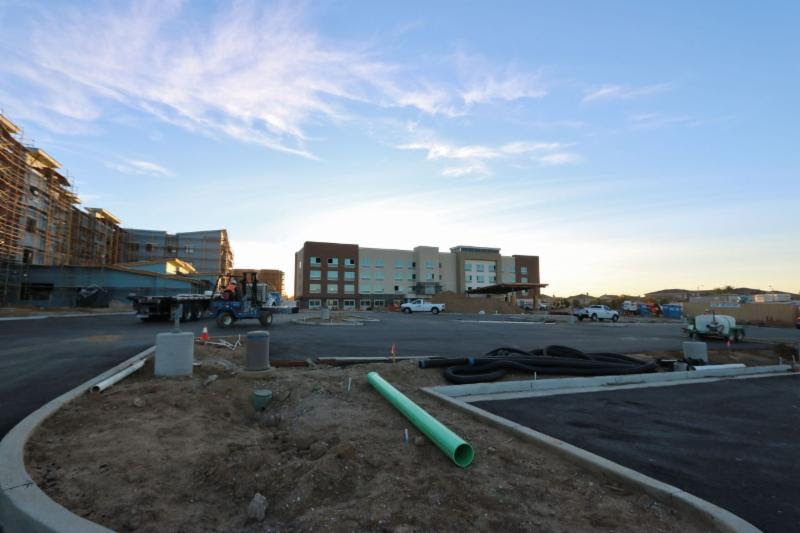 The two parcel sites have all vanilla shell work completed and the tenant improvement work has started. As for the current site work, asphalt paving and curbs have been 75% completed, all light poles have been installed, and landscaping is currently in progress.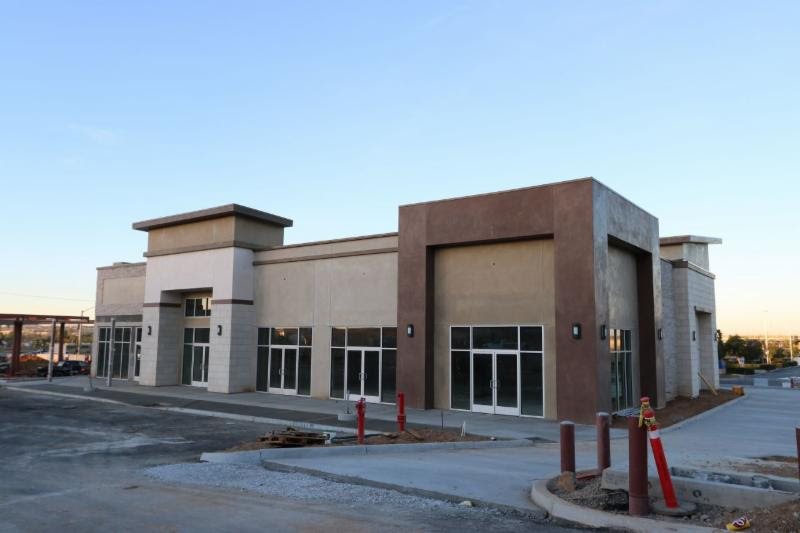 This has been a challenging project, nevertheless, we are very confident in the group of builders seeing this landmark through. Great job to the Quarter Team!
---
Urban Edge
We have reached the top! Urban Edge has officially topped out. This project is located in Hillcrest, California near UCSD medical hospital. For this project, WLC has been working alongside the Horine Group, L2A, and POD Architectural Firm.
The total lot size estimates to be about 5,400 s.f with the building footprint at 4,500 s.f, which is tightly fitted to complement this vibrant neighborhood. In addition, there are 4 Tri-level units with underground parking & roof access, as well as 1 four-story unit at grade level. Also, a masonry podium was included with a wood structural above.
Hillcrest is located North of downtown San Diego, and it is famous for its friendly streets and international cultural ties within the community. The diverse city has a vibrant nightlife and exquisite restaurants to dine in, as well as fashionable boutiques and an Uptown District shopping plaza for resident pleasure. Hillcrest is an excellent destination to call home, especially when looking for a welcoming environment to be surrounded by.
Our hardworking team on-site for this project has been Andrew Batson as Senior Project Manager, Tracy Johnson as Senior Project Engineer, and Chuck McLaughlin as Superintendent. Our team is looking towards a completion date at the end of March 2019. Great job team!
Good Luck Dean!
Dean Schumacher has been a loyal, hardworking, and irreplaceable piece of Watkins Landmark Construction for the past 14 years. First and foremost though, Dean is a man of faith. It is that faith that led Dean to make the difficult decision to leave WLC, -the company where he was the first employee to be hired full time-, to pursue a wonderful opportunity to build the master plan for his Church. Giving back has always been a huge part of Dean's life and this opportunity gives him the chance to make a positive difference in his community. Dean, though we are very sad to see you go, we are very proud of you and look forward to seeing the difference you make in your Church. On behalf of your WLC family, you always have a place here with us, and we will miss you dearly. Below are some photos of Dean's WLC journey!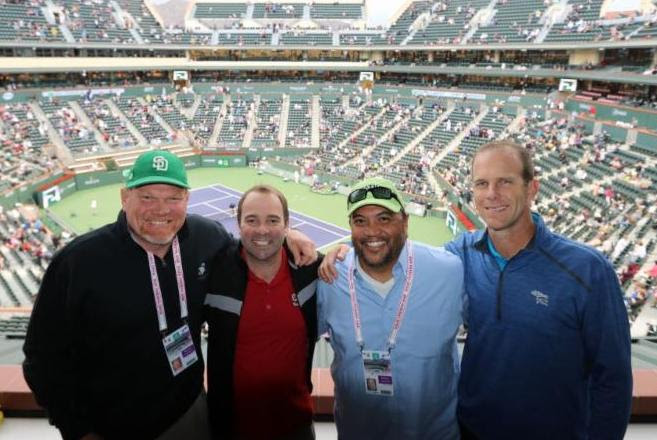 ---
Company Culture
New Hires
Mark Faessel- Estimator (Indian Wells)
Susan G. Komen Race for the Cure
WLC volunteers every year at the Susan G. Komen Race for the Cure in San Diego's Balboa Park. We always have a fun time passing out water to all the participants as they race past. Our group of volunteers woke up nice and early to dedicate their Sunday morning to a wonderful cause, thank you all for being a great representation of WLC.