Watkins Landmark's 
October

 2021 

Newsletter

Hello,
Halloween is upon on us. So is our 17th year as a company! Every year on October 27th, we celebrate our company anniversary. As all companies, we have had our successes and challenges over the last 17 years. I won't bother to repeat the COVID challenges of the last couple years. Most of you will have a similar story.
I would say that after 17 years, I am more confident in our company structure and our WLC Team than any other time in the history of our company. We are truly roaring out of the COVID Pandemic and 2022 could be a record breaking year. I can't thank our WLC Team enough for their perseverance in grinding through the pandemic. I could not have imagined the hot streak of project awards we have been blessed to experience over these last few months. I would be remiss if I didn't also thank our wonderful clients for their faith in our company.
Our first article in this newsletter is written by Jeffrey Bogo, Superintendent at the Hotel Del Coronado. Watkins Landmark is very proud to have built projects at the Del for two plus years and counting! If you are going to put the word "Landmark" in your company name, you damn well better have built a few. And there is not a more iconic landmark in San Diego County than the Hotel Del Coronado. Bradys / Retail Shops project puts the amount of projects we have built at the Del' into double digits. Great work by Marco Pena, Jeff Bogo, Jerry Carter, Jesse Nelson, Molly Watson, Missy Manning and of course Billy "Captain America" Bagby.
Our second article is written by Eric Mudge, Senior Project Manager, on our new Pomona Ranch Mixed Use project on the northwest corner of the highway 60 and 71 intersection. The first phase of the Pomona Ranch Mixed Use project will be the infrastructure for the multi-family and hotel projects which will follow suit. This is our second project with YK America. Our first project was the the Turtle Creek Apartment Complex in Riverside, California. We are very excited to have mobilized and begun construction at the Pomona Ranch Mixed Use project.
In our Company Culture section, we will show some of the highlights from our 17th Anniversary Happy Hour held earlier this week at our office in Carlsbad. While 17 is not a number that requires a big anniversary party, the WLC Team is very upbeat about the future of the company. We have made it through the worst of COVID (knock on wood!) and we are entering 2022 with a very strong backlog. For no other reasons, those two facts alone are reasons to celebrate!
Thank you for all of your comments and suggestions for our newsletter over the years. We truly try to incorporate the best of the remarks into our periodical. You can always click on my name and email me at Jody James Watkins with any observations or critiques.
Sincerely,

Jody James Watkins
CEO/Founder
WATKINS LANDMARK CONSTRUCTION
San Diego / Inland Empire
---
Bradys / Retail Projects at the Hotel Del Coronado
By Jeff Bogo, Superintendent
The Hotel Del Coronado is the most iconic building in San Diego. Watkins Landmark Construction has has been building projects at the Hotel del Coronado for over two years. We have renovated the whole ocean exposure side of this iconic hotel which includes Eno Market and Pizzeria, Sunday's Ice Cream Parlor, Serea, Sheerwater Restaurant, Fitness Center, Spa & Salon as well as the Famous Babcock and Story Bar.
It is a great privilege to be involved with the Del projects including the Brady's Fine Menswear project. The management team at the Del is determined to ensure that the historic aspects of the original facility are kept in tact, while updating the structure to current building codes. Our team has completed several major structural repairs in the cellar of this historic building. The Bradys project has been an amazing experience. Our Project Manager Marco Pena, Assistant Superintendent Jerry Carter and myself are working towards the same goal, "The Watkins Landmark Quality Standard!" Bradys Grand Opening will be in mid November, weeks ahead of schedule. The Shops 2 projects are well underway as well. We look forward to this Grand Opening along with many more in the future.
---
Pomona Ranch Phase 1 ~ Infrastructure Project Awarded to Watkins Landmark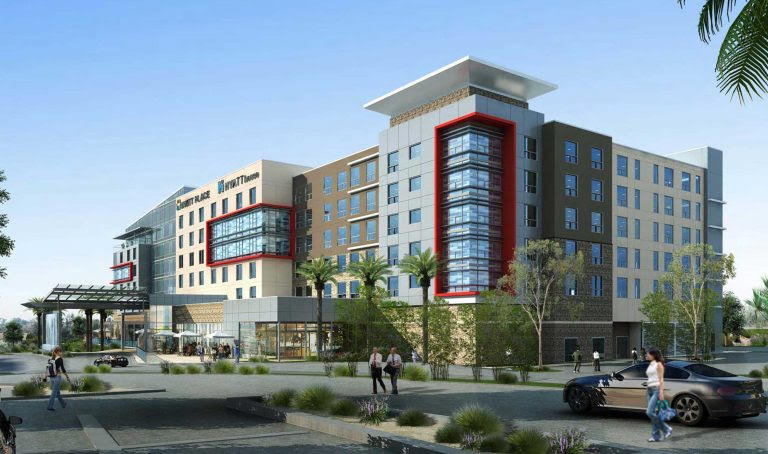 By Eric Mudge, Senior Project Manager
Watkins Landmark Construction is pleased to announce that YK America awarded us the first phase of Pomona Ranch site development and city improvement work. This is our second project with YK America. The first being the Turtle Creek Apartment Complex project in Riverside before the start of the COVID Pandemic.
Pomona Ranch planned phases consists of a new six story apartment building with underground parking and a future Hyatt hotel is also planned for the site. The property used to be a landfill which adds complexity and environmental issues. The first phase of the project requires constructing retaining walls, temporary shoring and mass grading in order to get the site to the new elevations. Once that work is completed, wet and dry utilities will be installed. In addition to the onsite work, there are four city improvement projects consisting of City Stormwater, City Utility Improvements, Rio Rancho Improvements and Camino Ranch Drive Improvements. The next phase of the project will be the construction of the apartment building, which should start by Summer 2022.
---
Culture Section: Watkins Landmark 17th Anniversary Happy Hour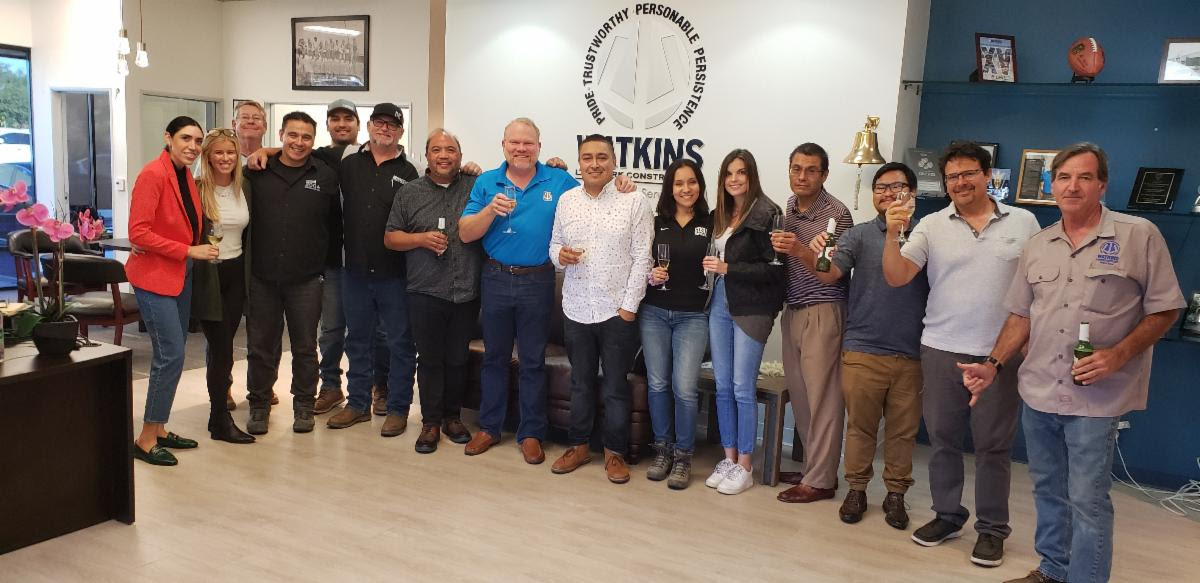 You may have already seen a separate announcement about our 17th Anniversary. However, we wanted to include several pictures from our celebration happy hour held on our anniversary date of October 27th. Enjoy.