Watkins Landmark's 
September

 2021 

Newsletter

Hello,
After 18 months of cancellations and delays, the BNP Paribas Open starts the first of week of October. For those of you who aren't aware, the BNP Paribas Open is held at the Indian Wells Tennis Garden every March. Due to COVID, the world famous tournament has not been held since 2019. Before the pandemic, the BNP would average almost 500,000 people in attendance each year. To say the past two tournament cancellations and postponements have impacted the economy of the Inland Empire is one of the bigger understatements I have ever written. We are incredibly happy for our friends at the Indian Wells Tennis Garden to be back on the world's stage. Watkins Landmark has always been incredibly proud of our crown jewel in the desert. We will happily attend next month.
Our first article in this newsletter is written by Hayat Hakim, Estimator, on the Spring Street Apartment Building project award in La Mesa. Spring Street is one of several projects we have been awarded since the last newsletter. Spring Street will be our second project with the crew at GenProp Rising Sun, LLC. Thanks to Geoff Sherman, Oscar Iniguez, Belen Tillett, John Gonzalez, Felipe San Martin and Hayat Hakim for securing the award of the next Landmark project of La Mesa! One of our longest term employees Billy "Captain America" Bagby (seen in picture above), Senior Superintendent, took it upon him self to place our sign on the property before mobilization. We are set to mobilize in October of 2021!
Our second article is written by Eric Mudge, Senior Project Manager, on our new Coto General Store & Mercantile Center in the exclusive Coto de Caza community of Orange County. Eric will also helm this project for Watkins Landmark along with Ruben Bravo and Keagen Fritz. I would be remissed if I did not thank our subcontractor Nuera Platinum Concrete for the referral.
In our Company Culture section, we will show some of the picture highlights from our "Watkins Landmark Annual Meeting" held earlier this month at our office in Carlsbad. For the first time in a couple years, we were able to focus on not just surviving COVID, but thriving now that the restrictions are slowly being lifted. At Watkins Landmark, we pride ourselves in our company culture. This culture was on full display during our meeting. The WLC Team is more upbeat and positive about the future outlook since well before the pandemic. We even got to celebrate our Spring Street project award after the meeting with our new project bell ringing ceremony. We have also included a couple pictures from the NAIOP San Diego Annual Golf Tournament and a few of our employees enjoying the last games of the season at PETCO Park.
Thank you for all of your comments and suggestions for our newsletter over the years. We truly try to incorporate the best of the remarks into our periodical. You can always click on my name and email me at Jody James Watkins with any observations or critiques.
Sincerely,

Jody James Watkins
CEO/Founder
WATKINS LANDMARK CONSTRUCTION
San Diego / Inland Empire
---
Spring Street Project Award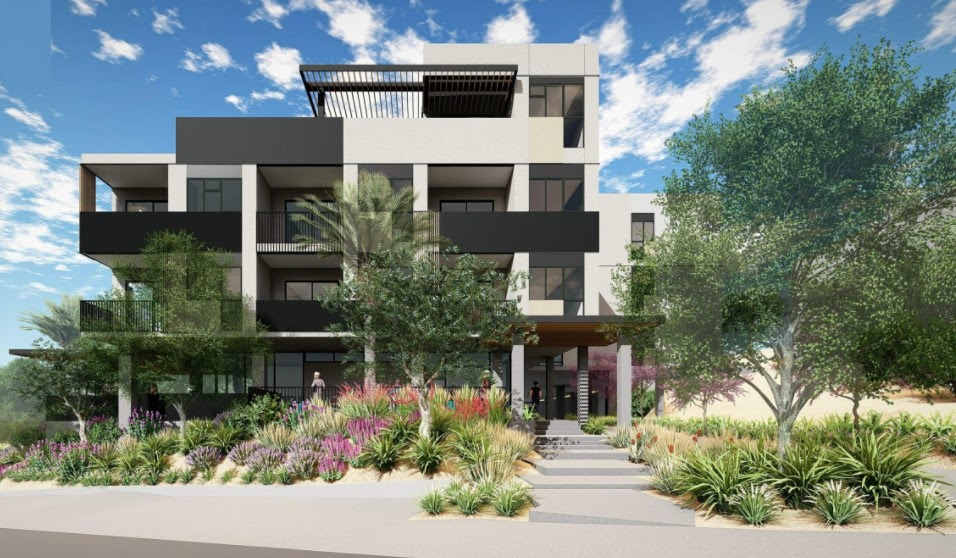 By Hayat Hakim, Estimator
Watkins Landmark Construction is pleased to announce our newly awarded project of Spring Street Apartments in La Mesa. After many proposals, budgetary efforts and rising commodity prices over the last year and a half, Watkins Landmark Construction is excited to begin this new project. The project consists of some affordable housing units, as well as one- and two-bedroom apartments.
This awarded project is mainly due to our hard working and high performing team currently building the Bonita Glen Apartments in Chula Vista. The team out there is doing such an amazing job to the point that the crew from GenProp Rising Sun LLC is becoming a satisfied and repeat client of ours.
This new GenProp Rising Sun LLC Spring Street project is a ground-up multifamily construction project composed of forty-eight units in a four-story building, three residential over one podium deck, with a total of forty-eight parking spaces. The podium deck covers the parking garage level, ground level lobby, and common area. There is lively proposed landscaping plan and minor demolition as the site sits on a demolished hotel site. The only items remaining of such hotel is the slab, asphalt, and other small scope items to be removed. WLC is proud to build yet another landmark in our beautiful sunny San Diego community.
---
Coto General Store and Mercantile Project Award
By Eric Mudge, Senior Project Manager
Watkins Landmark Construction is delighted to announce the award of the Coto General Store and Mercantile project consisting of three core and shell retail buildings in the private exclusive community of Coto De Caza, CA. This project is hopefully the first of many with our new client, Capexco Inc., a Canadian based developer with several projects in Southern California.
The project consists of three retail buildings that will house a general store, wine tasting room, restaurant, offices and other small retail space. Construction consists of a two story wood framed building and two one story wood framed buildings. Site infrastructure and improvements are also part of the contract. Tenant improvements should follow closely behind the core and shell work.
Watkins Landmark has mobilized onsite, set up erosion control and temporary facilities. Site demolition and grading will commence in October along with procurement of subcontracts for the site and building construction. Completion is planned for the third quarter of 2022 with tenant improvements to be completed shortly thereafter.
---
Culture Section: WLC Annual Meeting, NAIOP Golf Tournament and a Padres Game
We held the Watkins Landmark Annual Company Meeting at our Headquarters in Carlsbad. This is the first time in two years we could hold the meeting in person. While COVID has caused economic issues throughout most of the world's businesses, the WLC Team came away from this meeting with a bright outlook for our future. Many of our team members said this was the best company meeting in years. While many reasons can be listed for the positive reviews, I would say it was a general sense of optimism that we have made it through the worst of the pandemic. That and a very healthy backlog of work.