September Newsletter
This last month has not only been about project accomplishments but also milestones, celebrations, charitable giving, and a lot of fun. Fun is something that goes under reported at Watkins Landmark, but it is definitely woven into the fabric of our culture. Our Human Resources Generalist Sandi Fowler found a statement on the website GlassDoor about our company that I felt was one of the best compliments we have ever received. The quote said "Don't forget this company was born from people who got tired of being another brick in the wall." Not only is this true, but it steals the quote from Pink Floyd, my all-time favorite band. It was certainly a moment where I swelled with pride upon reading it.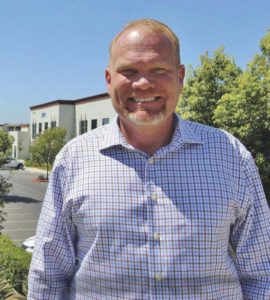 This month's WLC Newsletter features our Alcon projects being built out of our new Orange County office. For those of you not familiar with Alcon, they are the global leader in eye care. They develop and manufacture innovative medicines and devices to serve the full life cycle of
all eye care needs. We recently completed a renovation of the warehouse and offices in their Lake Forest facility. Our project team did an outstanding job working nights to get this project complete.
With the skyrocketing growth our company has experienced the last 5 or so years, we feel blessed with the opportunity to give back to our community. Since we built the Episcopal Church Center food bank Loaves and Fishes, we have been a strong supporter of their mission to the homeless community in Ocean Beach. Not only that, but the woman who runs the facility, Gerri Dunham, has been a huge supporter of Watkins Landmark along with being a good friend and mentor. My Mom died over 4 years ago, but throughout her life she always volunteered her time to serve the homeless. After her passing, I felt that one of the ways her legacy could be carried on was through my company's charitable efforts. Our latest contribution to Loaves and Fishes was to build their new facility on our dime. This facility has since been dedicated to Cheryl Watkins. I take great pride that my mom's name continues to live on in one of the many ways she would give back to her community.
In our Company Culture section, we have pictures from our annual WLC Fishing Charter. This is one of many events we do for our employees. However, for the first time ever I am proud to say I won the "Lunker Pot"! More importantly, in our almost 13 year history, we celebrated our first employee retirement. Scott "Grumpy Cat" Sherrod retired from Watkins Landmark last month. You will see pictures of his retirement celebration below. Among his presents, was a table clock and a gold painted walker. Scott gave a very moving speech to the people there to celebrate his retirement which brought more than a few tears. We all hope that Scott enjoys a long and enjoyable retirement with his wife, children and grandchildren.
Please keep your comments and suggestions on our newsletter coming! We appreciate the comments and use the suggestions to improve our news bulletin.
Jody James Watkins
CEO / President
WATKINS LANDMARK CONSTRUCTION
Carlsbad / Indian Wells / Orange County
---
Alcon Projects
Our Alcon Projects were design-build projects with Watkins Landmark and Alcon. These projects were both major tenant improvements to the warehouse and the offices.  From the initial phase of the project, prior to mobilization, until recently, Watkins collaborated with multiple end users from Alcon to address their needs. It was crucial that we consulted with subcontractors at the same time to assure that the design concept translated properly into the build process. Plans were drawn up, revised, and finalized on the spot as the project progressed. The scope of this project included: demolition of the entire existing warehouse fire suppression, office walls, flooring, ACT and grid in hallway, and a conference room. After the demolition was completed, we re-routed the electrical supply in the warehouse and office area, installed new split system HVAC unit, re-routed the plumbing line and installed eye wash / shower unit, and installed entire warehouse shelving system.
Over all, this was both interesting and a great learning experience for our project team. This project required us to keep a close watch and handle on our subcontractors to ensure that they were on schedule from start to finish as per the given schedule. We were constantly adjusting the schedule to accommodate multiple trades working in the same area, and assuring that work flowed according to plan. This job would not have run as smoothly without the cooperation and support from our subcontractors.
Our 3 in 1 project team – Tan Pham – Senior Project Engineer – played the role of project manager, project engineer, and superintendent. Tan displayed incredible dedication and work ethic taking on all these responsibilities, so great work and thank you Tan! Our most sincere appreciation and thanks also go to the team at Alcon for the opportunity to work with you on these improvements.
---
Loaves and Fishes
Loaves and Fishes food pantry in Ocean Beach is an organization that is very near and dear to Watkins Landmark Construction. They were previously located in the back room of a church with little storage and cramped space, which made it a struggle to manage and distribute food. To create a more spacious area, we remodeled an existing office into a high traffic food distribution pantry. This new space was freshly painted to make it more bright and lively.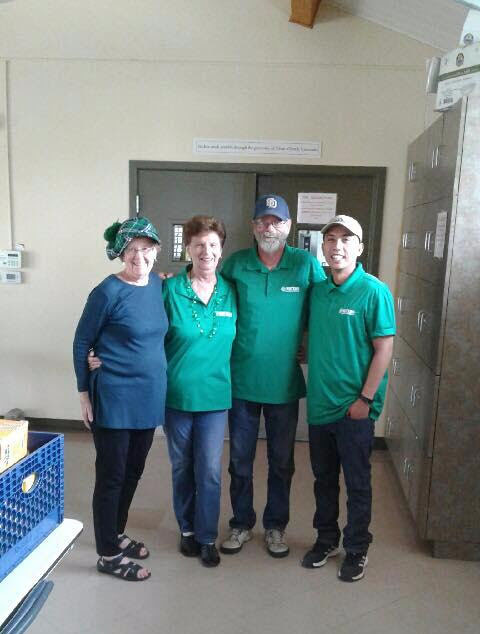 These improvements were designed to allow air flow as well as handle high food traffic. WLC supplied new shelving, a new storage area, a flip counter top for easy access from storage to serving area and a new durable VCT flooring, which will give this functional pantry many years of service while also being low maintenance. We also installed a new outdoor awning to provide cover for anyone visiting the Loaves and Fishes pantry. WLC is proud to contribute to an organization that is doing so many great things for the community year-round.
If you would like to help out or donate to this great organization, we have drop boxes at our Carlsbad Office, or you can visit the Loaves and Fishes "How to Donate" section on their website for more information!
---
Company Culture
Promotions
Tan Pham has been promoted to Senior Project Engineer for doing an outstanding job at our Alcon Projects up in the Orange County area. Congratulations on this well deserved promotion.
WLC Annual Fishing Charter
Every summer, our WLC team embarks on an overnight fishing trip in hopes of bringing home some fresh fish, and boy did they ever this time! The guys had an awesome time relaxing and reeling in some big tuna. Thanks everyone at Fisherman's Landing, in particular to our Captain and crew on board the Condor!

Scott Sherrod Retirement
Around mid September we said  "see ya later" to WLC's very own Scott Sherrod, better known by everyone as "Grumpy Cat". He has been with Watkins Landmark for just over 5 years and has been a great help in serving the Inland Empire area and lately the Orange County projects. His absence has already been felt. We are happy for you Scott, enjoy your  retirement!