(INDIO) – Watkins Landmark Construction, a Southern California General Contractor, has joined the Socal Coyotes, America's #1 Developmental Football Program™, as an official corporate partner.
Watkins Landmark Construction has been the selected general contractor for the Indian Wells Tennis Garden since 2009, completing major additions and renovations such as the ground up construction of Stadium 2 and the most recent full-scale renovation to the prestigious 16,000 seat Stadium 1.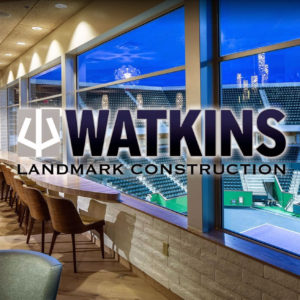 Both projects were completed in under 11 months in anticipation for the BNP Paribas Open that takes place in March each year.
"For over 12 years, Watkins Landmark Construction has treated every project as though it was our first," said CEO Jody James Watkins, a 2017 finalist for the Ernst & Young Entrepreneur of the Year® Award.
"For us, the stakes have never wavered," Mr. Watkins added. "  As our portfolio grows, we are careful to remember our company motto 'Build to Serve.' In the end, nothing else matters."
Watkins has embraced the championship, community-driven Coyote organization that affects more than 30,000 youth each year through a myriad of leadership clinics, symposiums and expos. The Coyotes mirror the same unmatched cooperation, communication, and quality that has made the Watkins brand a household name.
Watkins Landmark Construction offers a strong team of builders and staff that specializes in building award-winning, cutting-edge construction projects that leave a lasting impression on the client, end users and the surrounding community.
ABOUT WATKINS LANDMARK CONSTRUCTION
Since 2004, Watkins Landmark Construction is known for its mastery of complex, intricate and difficult projects. Watkins Landmark has a large and diverse portfolio of projects that include, sporting stadiums/facilities, churches, restaurants, office buildings, schools, aviation facilities, hotels, multi-family housing, amphitheaters, and theme-parks. The Company has grown from using a Starbucks in Carmel Valley, for the free wifi, into three offices, Carlsbad, Indian Wells, and Orange County, which service all of Southern California, and now has over 80 full-time employees.
Watkins work sites range as far north as Malibu and as far south as Chula Vista, and include completed projects in the urban setting of the Gaslamp Quarter to areas as rural as the Drop 2 Reservoir adjacent to the Arizona border. The Company relies on the experience of CEO Jody James Watkins and his experience on award-winning projects such as Petco Park, Indian Wells Tennis Garden, Pfizer Campus Biotech Research Buildings and the Pacific Athletic Club.
ABOUT THE SOCAL COYOTES
The SoCal Coyotes are the national standard of American developmental football. The Coyotes non-profit organization provides elite athletes a professional environment that refines and showcases their skills through trademarked processes similar to the NBA's D-league and MLB's minor-league systems. NFL executives have named the SoCal Coyotes organization America's #1 Developmental Football Program™ for its national, scalable brands, community outreach programs, five-year operating track record, verifiable data, youth curriculum, sales, public-private sector alliances, and measured results.
Visit The Coyotes Facebook.
Source "WATKINS LANDMARK CONSTRUCTION JOINS SOCAL COYOTES AS OFFICIAL PARTNER"
Coyote Spotlight August 24th 2017
To find out more about the SoCal Coyotes Program and to read the original article: Click Here.